In today's fast-paced digital world, the quest for financial freedom has led many to explore diverse avenues for generating passive income. Among the plethora of opportunities, one shining star stands out – affiliate marketing.
This ingenious concept has become a beacon of hope for aspiring entrepreneurs, promising a lucrative path to financial independence and the freedom to earn money while you sleep.
Affiliate marketing, the art of promoting products or services and earning commissions for successful referrals, has taken the digital landscape by storm. As an affiliate marketer, you act as a bridge between consumers and businesses, reaping rewards for each successful sale you drive.
Let's delve into the world of affiliate marketing and explore why this dynamic strategy has become the preferred choice for those seeking a flexible, rewarding, and truly empowering means of income generation.
Why SoftLab Affiliate Program?
If you are seeking an affiliate marketing program that not only fuels your passion for promoting exceptional products but also rewards you handsomely for your efforts, then look no further than the SoftLab Affiliate Program.
As a growing WordPress plugin development company, SoftLab has crafted an enticing affiliate program with a plethora of benefits that make it an irresistible choice for aspiring affiliate marketers.
Let's dive into the captivating world of the SoftLab Affiliate Program and discover why it stands head and shoulders above the rest.
Top-Notch Products: As a WordPress plugin development company, SoftLab is renowned for its high-quality, feature-rich plugins that cater to a wide range of user needs. By promoting SoftLab's exceptional products, you align yourself with a brand trusted and revered by countless users and industry professionals.
Generous 20% Commission: SoftLab believes in empowering its affiliate partners, which is why it offers an industry-leading 20% commission on each successful sale. By becoming a SoftLab affiliate, you embark on a journey where your earnings are not just substantial but reflective of your dedication and marketing prowess.
30-Day Cookie Duration: With a 30-day cookie duration, SoftLab ensures that your efforts as an affiliate are rewarded fairly. If a visitor clicks on your affiliate link and makes a purchase within the next 30 days, you will receive the well-deserved credit for the sale, even if they return directly to the website.
Convenient PayPal Withdrawal: SoftLab understands the importance of hassle-free payments, which is why it offers smooth and timely commission withdrawals through PayPal. No more waiting for cumbersome payment processes – your earnings are just a few clicks away.
Minimal $100 Payout Threshold: SoftLab values your time and effort, which is why it has set the payout threshold at a reasonable $100. Once you achieve this minimal amount in commissions, you can swiftly withdraw your earnings and watch your passive income grow.
Unlimited Promotional Channels: Embrace the freedom to explore diverse promotional channels with the SoftLab Affiliate Program. Whether you prefer to showcase SoftLab's products through your blog, social media, emails, or any other creative medium, there are no limits to how you can showcase your affiliate links.
Expert Affiliate Support: SoftLab is committed to nurturing its affiliate partners to achieve their maximum potential. With a dedicated affiliate support team, you'll have guidance, resources, and tips to optimize your promotional efforts and boost your affiliate success.
Products You Can Promote
SoftLab has some successful and proven problem-solving products that are helping people every day. Before joining SoftLab's affiliate program you should have a basic idea about what products this company really has. Here are some of our successful products you can promote:
| | | |
| --- | --- | --- |
| Product Name | Commission | About Product |
| Integrate Google Drive | 20% – Earn up to $90 per successful sale | Integrate Google Drive files from the WordPress website |
| Radio Player | 20% – Earn up to $90 per successful sale | Live Shoutcast, Icecast, and Audio Stream Player for WordPress |
| Dracula Dark Mode | 20$ – Earn up to $40 per successful sale | 1-click Dark Mode for WordPress website |
How to Join SoftLab Affiliate Program?
You can join SoftLab Affiliate Program with just a few steps. But you should have to be aware of the right process to join. Here is how you can join SoftLab Affiliate Program:
Step-1: Navigate to SoftLab Affiliate Register Page
Begin your journey to becoming a valued member of the SoftLab Affiliate Program by navigating to the official SoftLab Affiliate Register Page. You can easily access the page by typing the following URL into your web browser's address bar: https://softlabbd.com/affiliate-register/. Once you land on the page, you're ready to take the next step toward affiliate success.
Step-2: Fill Up the Form with Valid Information
Upon reaching the SoftLab Affiliate Register Page, you'll find a well-designed and user-friendly form awaiting your input. Take a moment to provide accurate and valid information to ensure a smooth and successful registration process. The form requires the following details:
Full Name: Enter your full name exactly as it appears on official documents for identification purposes.
Email Address: Provide a valid and actively monitored email address where you can receive important communications and updates.
PayPal Email Address: Input the email address linked to your PayPal account, as this will be used for seamless commission withdrawals.
Select Product(s): Choose the SoftLab product(s) you plan to promote as an affiliate. SoftLab offers a diverse range of premium WordPress plugins tailored to various user needs.
Promotion Methods: Indicate the specific methods you intend to utilize for promoting SoftLab's products. Whether you prefer blogging, social media, email marketing, or other creative channels, let SoftLab know your strategy.
Other Details: The form may include additional fields to gather specific information required for the registration process. Ensure you complete all fields accurately.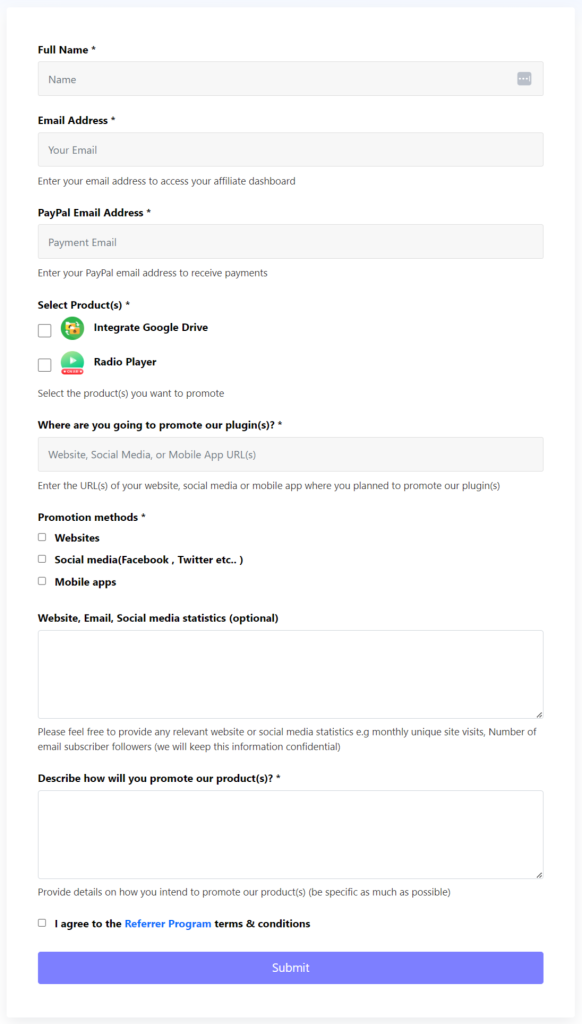 Step-3: Wait for Approval Email
After successfully submitting the form with your valid information, it's time to patiently await the approval email from SoftLab. Rest assured that the SoftLab team will diligently review your application to ensure all necessary details are in order. While the approval process is typically prompt, kindly allow a brief period for a thorough assessment.
Step-4: Activate Your Account
Excitement awaits as you receive the approval email from SoftLab! In this email, you will find essential instructions on how to activate your affiliate account.
One vital step involves setting up a secure password for your account. Follow the email's clear instructions to complete the activation process seamlessly.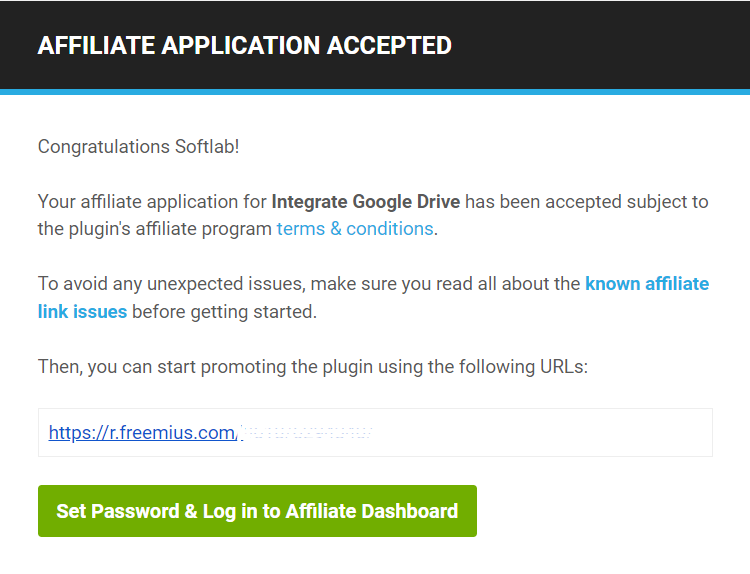 Step-5: Explore Affiliate Dashboard and Start Promoting
By activating your account, you'll gain access to your personalized affiliate dashboard, where you will get your affiliate link, can track your performance, view earnings, and explore valuable promotional resources to optimize your affiliate marketing efforts.
Congratulations! You are now officially part of the esteemed SoftLab Affiliate Program. Embrace the endless possibilities of affiliate success and make the most of this exceptional opportunity to earn lucrative commissions while promoting top-notch WordPress plugins.
Conclusion
Now it's time to properly promote our product and involve yourself in our growth partner. Start promoting our products through valuable marketing platforms, refer users to us, and finally get handsome commissions once they successfully purchase our products.