Radio Player
Live Shoutcast, Icecast and Audio Stream Player for WordPress
A simple, easy to use, user-friendly and fully customizable web radio player for WordPress. You can play any live mp3, Shoutcast, iceCast, and any audio stream in your WordPress website.
Try Live Demo
Get Started

Sticky Player
Sticky Player Excellence
Boost engagement with Radio Player's Sticky Player. Offered in versatile styles like Fullwidth, Mini-Fullwidth, and Floating, it ensures seamless listening across your site. Plus, customize its display on specific pages for tailored user experiences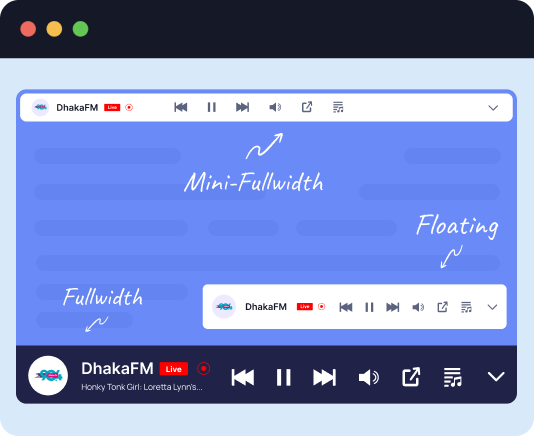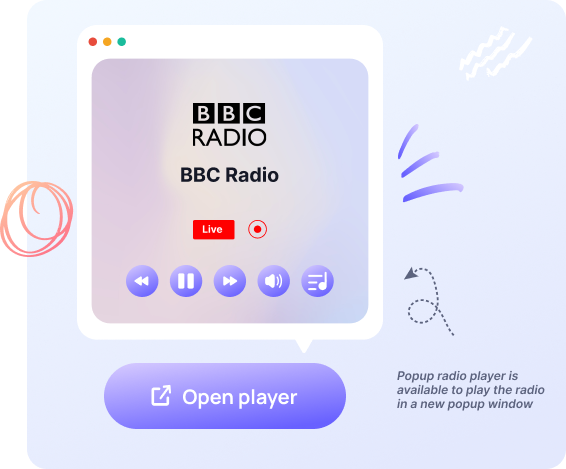 Popup Player
Continuous Playback Window
Allow listeners to enjoy your radio stream in a dedicated popup window, ensuring continuous playback even as they browse elsewhere. Boost engagement with minimal disruption.

Stations Playlist
Multiple Stations Playlist
Combine multiple radio stations in one player. Offer listeners a seamless switch between stations, enriching their experience. All within a single, intuitive interface. Simplify choices, maximize engagement.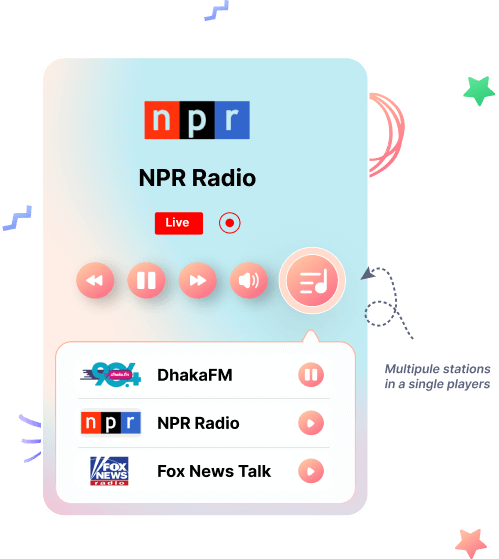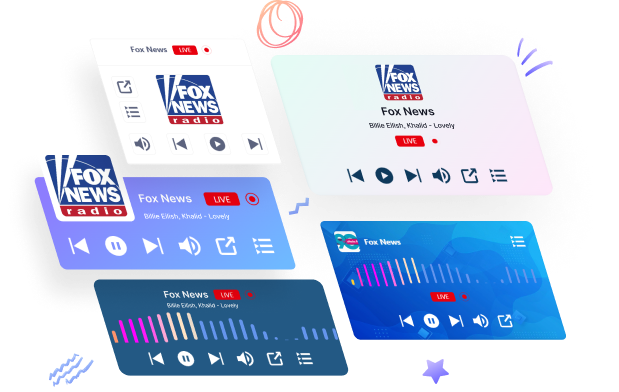 Multiple Player Skins
10+ Player Skins
Personalize your radio experience with our expansive range of player skins. Each design is meticulously crafted, ensuring both style and functionality, to cater to every aesthetic preference.
View Demo

Player Embed Code
Embed & Play Anywhere
Easily integrate your radio player on any website or page. Maximize your reach with our easy-to-use embedding feature, making your radio accessible everywhere.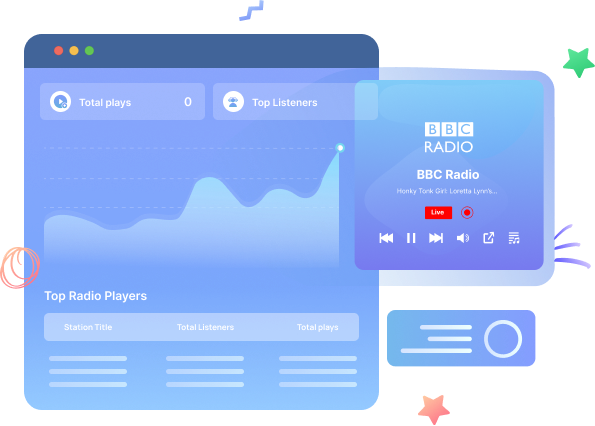 Play Statistics
Radio Player Analytics Dashboard
Gain insights with our Analytics Dashboard. Track play counts, listener numbers, daily trends, and identify top-performing players. Elevate your broadcast strategy with data-driven insights.

Schedule Time
Player Display Schedule
Effortlessly manage when your radio player is accessible to listeners with the scheduling feature. You can define a specific start and end date, ensuring the player is only visible during the desired timeframe to gain control over broadcasts, aligning with special events, promotions, or programming needs.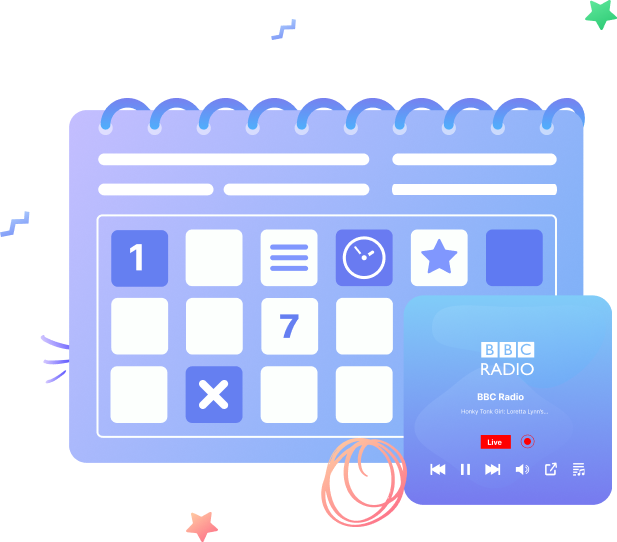 Live Player Editing Preview
Player Editing Preview in Realtime
Experience the power of real-time player editing with our intuitive interface. Adjust the appearance, from colors to box shadows, or tweak player controls instantly.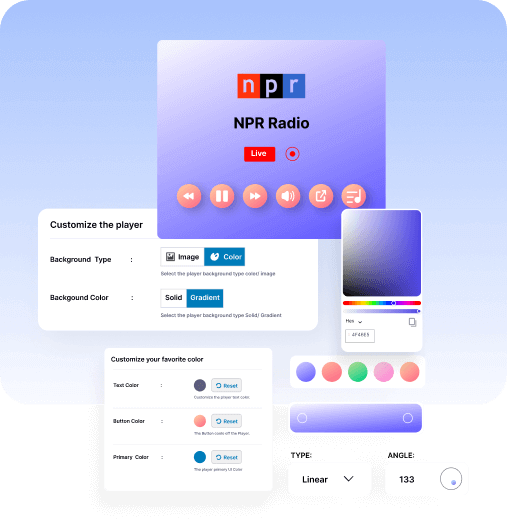 Customizing Player Appearance
You can customize the player appearance in real-time. You can change the player colors, background color, background image, width, border radius, box shadow, and more.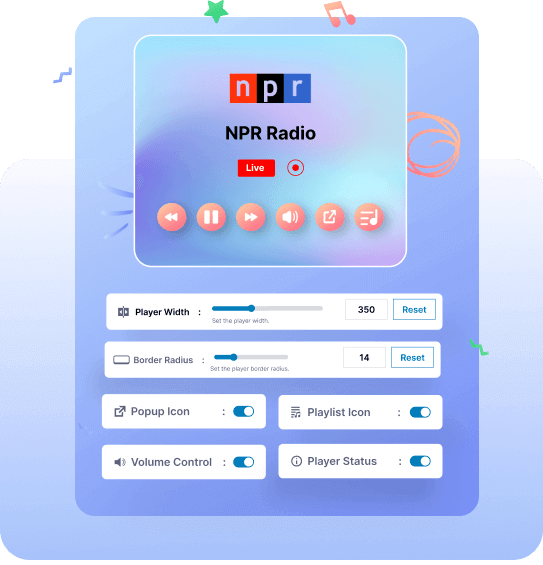 Customizing Player Controls
You can customize the player controls in real-time. You can show/ hide the different player controls like popup icon, volume icon, playlist icon and live/ offline icon.
Never Miss a Single Valuable Feature.
Let's explore which features are absolute you can add to stand out and give even more value
MP3 + AAC + M3U8 Compatibility
You can play the live .m3u8 streams using the radio player.

Shortcode Player
Display the Radio Players anywhere in your website using the [radio_player] shortcode.

Stream Data Display
Radio player can grab and play the stream data including current track title, artist, artwork, and recent play history

Player Duplicator
Any pre created player can be duplicated with all the settings and create a new player with the same settings.

Mobile Media Notification
While playing a the player, users can see currently playing station information and can play/ pause the player from the mobile notification bar.

Multiple Instance
Multiple players can be displayed and played at the same time on the same page.

Add Multiple Players
You can add upto 10 players in the free version and unlimited players in the PRO version.

Custom CSS
You customize the popup player width & height.

Color Customizations
Player text colors and background colors can be customize.

Play Statistics
You can view the statistics how many user how many times the radio player.

Gutenberg Block
Display the player in any page/ post using the Radio Player Gutenberg editor block.

Elementor Widget
Display and play the radio player in any page/ post using the Radio Player Elementor widget.
Compatibility
Works with any mp3 or aac stream and any major radio provider.








Amazing fact about the Radio Player




What Customers Say about Radio Player
We asked our customers for feedback about the Radio Player and they say
"Best Radio Player Available
We spent several days reviewing the available Wordpress radio players for streaming and this was by far the best one available that could work on every Wordpress theme. Highly recommended!"
Collabo
This plugin works as advertised! Most importantly the support team was very responsive to my emails and helped me figure out why my stream URL didn't worked and provided a solution.
tom-pennington
Perfect! The pro version helped me to get rid of some https problems and now everyone can hear my broadcasts!
Per Kindwall
PERFECTO, FUNCIONA MUY BIEN!
Merece la pena la versión pro, funciona de maravilla!
CentroWebs S.C.
Addons for Radio Player
Radio Player Enhancements
Supercharge your Radio Player with our curated addons to extend functionalities and maximize the listening experience

Radio Player Proxy
Radio Player Proxy Add-on for Radio Player facilitates the playback of HTTP (non-SSL) radio streams on HTTPS-enabled websites.
Additionally, if your website server struggles to retrieve stream data including currently playing song title, artist, artwork, and recent play history, the plugin can fix display of the metadata.
View Details

Radio Player Ads
Elevate your radio streaming with the Ads Player Add-on. Seamlessly weave in targeted ads and promotions, enhancing listener experience while boosting your revenue.
Benefit from insightful analytics and effortlessly manage your advertisements with our intuitive interface and customizable mic-drop features.
View Details
Start Playing Your Online Radio Station Now
Try out the best Radio Player plugin in the market for unstoppable radio streaming.