In the vibrant world, where websites come to life as essential tools, especially for artists, photographers, and creatives. The professions I mentioned might require Gallery Photo Proofing inside their WordPress website to take their profession to the top.
Photo Proofing plugins in that case will play a win-win role for them.
Photo-proofing plugins can transform your website into an interactive platform where clients can view, select, and provide feedback on images seamlessly.
In this article, I will take you into the best gallery photo proofing plugins for WordPress websites that will take a part of your profession.
Best Gallery Photo Proofing Plugins for WordPress
I will delve into some of the best photo-proofing plugins available for WordPress. Let's uncover their unique features, ease of use, and how they can elevate your creative process.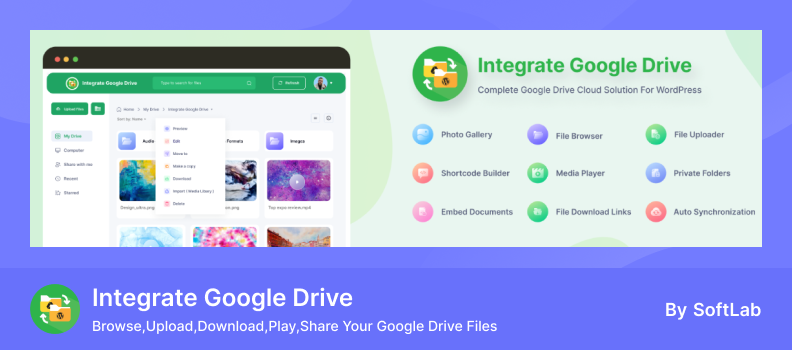 As a photographer or any other professional, presenting your work to clients for selection is a crucial step in your creative process. The Gallery Photo Proofing feature offers you the convenience of curating a personalized gallery where clients can view and choose their preferred images.
With the ability to download selected photos as a ZIP file or send them via email attachment, this feature streamlines communication and enhances client collaboration.
However, there's an even more efficient way to manage and store these valuable image selections. By using Integrate Google Drive plugin into your photo proofing workflow, you can seamlessly synchronize and organize client-chosen images with ease.
How it actually works?
You create stunning photo galleries using Integrate Google Drive plugin
Send the photo gallery link to your users/ clients
They choose the photos they like
Sends you the voting report via email
You can preview or download the report as a CSV file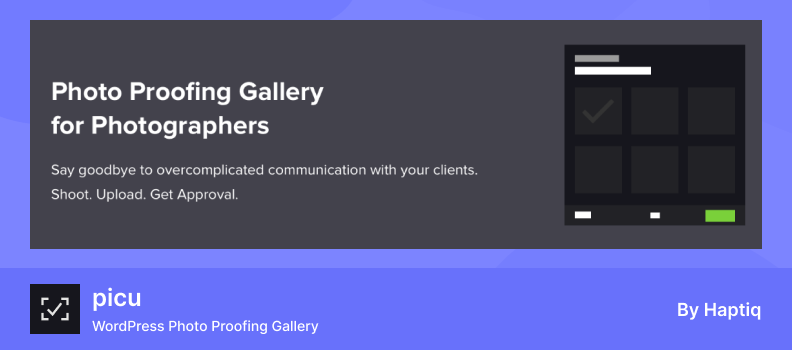 Tired of juggling emails and confusing processes to get your client's photo approvals? Say hello to Picu – the ultimate WordPress plugin that streamlines your photo-proofing experience.
With Picu, you're in control. Create stunning photo galleries showcasing your work, and let your clients easily pick and approve their favorite shots. No more back-and-forth emails or headaches.
Here's how it works:
Create Galleries: Craft beautiful galleries displaying your photographs. Show off your skills and let your images shine.
Send Links: Share a simple link with your clients via email. They can now view the gallery and select their preferred images with ease.
Effortless Approval: Once your client makes their selections, you'll receive an automatic email notification. No more waiting and wondering.
Retrieve Choices: Retrieve your client's chosen images effortlessly. Seamlessly integrate them into your preferred photo management software.
Picu simplifies your photo-proofing process, putting you back in the driver's seat. Shoot, upload, and get approved – all within your own WordPress website.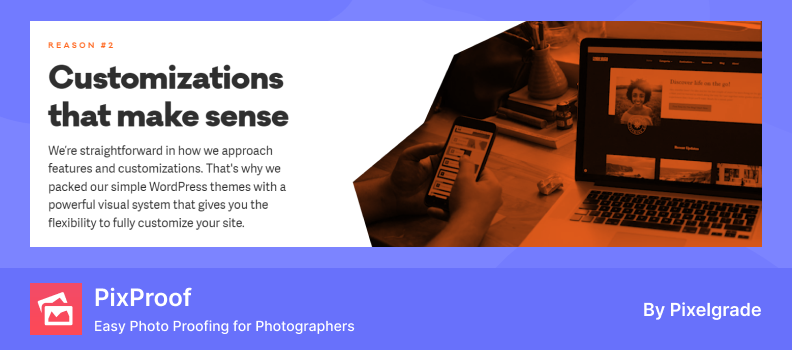 PixProof is a specialized plugin designed for photographers who want a hassle-free way to engage with their clients. With its user-friendly interface, PixProof simplifies the process of discussing and reviewing photos from photo shoots.
This interactive plugin operates on an AJAX-based platform, creating a secure and streamlined environment.
At its core, PixProof introduces a custom feature called Proof Galleries, making it effortless to organize and manage galleries dedicated to your clients. By keeping these galleries separate from other post types like regular galleries or projects, PixProof ensures a focused and efficient workflow.
Whether you opt for public galleries, which are accessible through private URLs, or password-protected galleries – the recommended approach, PixProof provides the flexibility to cater to your preferences. You can even create entirely private galleries, giving you full control over who sees the images.
Read Also: How to Create Photo Proofing Gallery
Why Pixproof is Useful?
Simplifies photo proofing process using an interactive AJAX-based interface.
Utilizes a Custom Post Type "Proof Galleries" to manage client-specific galleries.
Separates client galleries from other post types (e.g., regular galleries or projects).
Supports both public and password-protected galleries.
URLs for galleries are not publicly accessible, shared only with clients.
Option to create private galleries for exclusive access.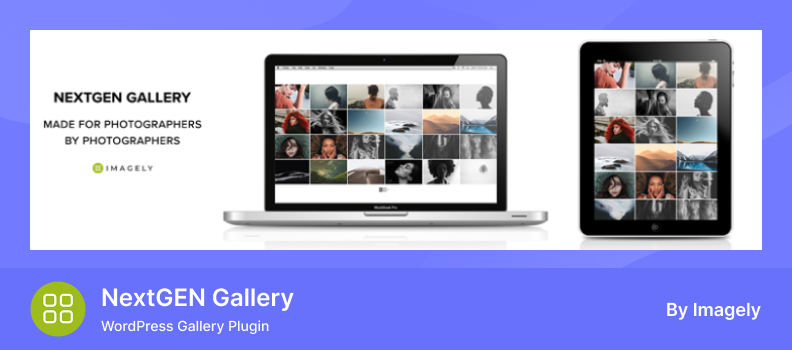 Elevate your photography business with a powerful tool designed to streamline your workflow and enhance client collaboration. With the Photo Proofing feature, you can effortlessly showcase your images in a sleek Pro Lightbox, making it easy for clients to review and select their preferred shots.
Simply click on images or cart icons to open the Pro Lightbox with proofing. From there, clients can click the star icon below each thumbnail or within the Pro Lightbox to mark their favorites.
Once selections are made, a simple click on the Submit Proofs button brings up the user-friendly interface for submitting proofs. Simplify your client interactions and showcase your work with NextGEN Pro's intuitive Proofing System.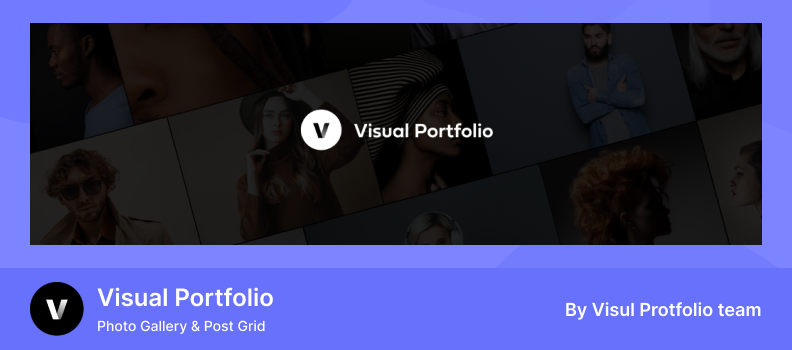 With the Visual Portfolio's Photo Proofing feature, you can easily create a stunning gallery of your photos, just like you're used to. Customize the styling and layout to match your vision.
Send this curated photo collection to your clients for their input. They can conveniently leave comments on individual photos and even communicate directly with you.
Once your client gives the green light to their selected photos, you'll have easy access to view their choices. Plus, you can quickly grab filenames for your post-production process.
Elevate your client interactions and simplify your photography journey with Visual Portfolio's intuitive Photo Proofing feature.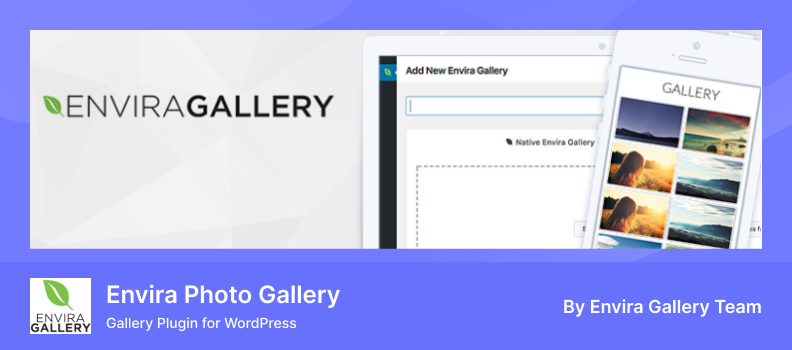 Attention photographers and photography businesses! We've heard you loud and clear. We understand how important it is for your clients to have a seamless and efficient way to choose their favorite photos from a session. That's why we're excited to bring you the Image Proofing feature for Envira Photo Gallery.
With Image Proofing, your clients can now easily browse through your photo gallery and choose their cherished moments. It's like having a virtual selection process right at their fingertips. No more back-and-forth emails or complicated instructions.
Your clients can specify the exact quantity and sizes of the photos they wish to order. It's as simple as a few clicks. This means you can now provide a more personalized and tailored experience, ensuring that your clients get exactly what they envision.
Conclusion
We explored a variety of WordPress plugins designed to enhance the photo-proofing experience for galleries. Each plugin showcased its own distinct features and functionalities.
From seamless image uploading to intuitive client interactions, these plugins demonstrated their effectiveness in simplifying the proofing process.
By integrating these plugins into your WordPress website, you can streamline the way you present and collaborate on images with clients. Now find which one best matches you and finally go for that.