An online radio directory website can be a handy move if you are thinking of building a unique website. More importantly, this type of website takes only a one-time setup that can be completed within a few minutes. The main reason for creating such types of WordPress websites is to allow users to listen to online radios without having any difficulties or errors.
If you have an existing WordPress website, you can turn your website into a giant radio directory with 52,000+ stations.
In this article, I will directly take you through step-by-step guidelines on how to create an online radio directory website on WordPress. So without further wasting your time let's directly dive into the main steps.
Step-1: Setup Your WordPress with Domain & Hosting
The first thing first you have to completely set up your domain & hosting with WordPress. Then you will be fully ready to move on to the major steps. I am not going to show how you can set up all those domains & hosting stuff here. If you haven't done so yet, you might check YouTube to set up all that stuff easily.
Hey, wait!
Before moving on to the next steps, keep in mind that we are going to use a plugin called WP Radio to create an online radio website in WordPress. WP Radio is a worldwide online radio station directory plugin for your WordPress website. That lets you easily create a full-featured online radio directory website. WP Radio has pre-included 52000+ online radio stations from around 190+ countries all over the world. You can also add unlimited radio stations (Icecast, Shoutcast, Radionomy, Radiojar, RadioCo, .m3u8, etc) and allow users to listen to them without any suffering.
It also features some powerful add-on plugins that will totally improve the user experience while they are interacting with your website. I will talk about a couple of them here.
WP Radio User Frontend
WP Radio User Frontend addon plugin lets engage your visitors to your website by adding powerful features. such as adding a login/ registration form, review submission, favorite stations, station submission, report submission, etc.
WP Radio Ads Player
Monetization can be a handy feature for your online radio directory website. Luckily you can do that by using the WP Radio Ads Player Addon plugin. Monetize your radio directory website by playing custom mic drops, stringers, and audio advertisements. You can set Pre-roll and mid-roll Ads, Custom Intervals, Custom Ad Duration, Countries Filtering, Custom Play Rules, and many others to increase your revenue.
Step-2: Install & Activate WP Radio Plugin
You will be able to import worldwide radio stations with only one click if you use the WP Radio plugin. The system will automatically import stations by country inside your WordPress website. You won't need any coding knowledge to do that.
Navigate to Plugins > Add New > Search for WP Radio > Install & Activate WP Radio.

Step-3: Add Radio Stations
Once you have installed the WP Radio plugin it's time to import radio stations. Keep in mind you can import radio stations manually or import stations automatically by country. More importantly by one click!
Automatically Station Import
Navigate to Radio Stations > Import Stations > Select Country > Run Import.
If you select multiple countries with many stations, it might take some time to import all the stations. At this time you have to keep patience and should hang on until importing is finished.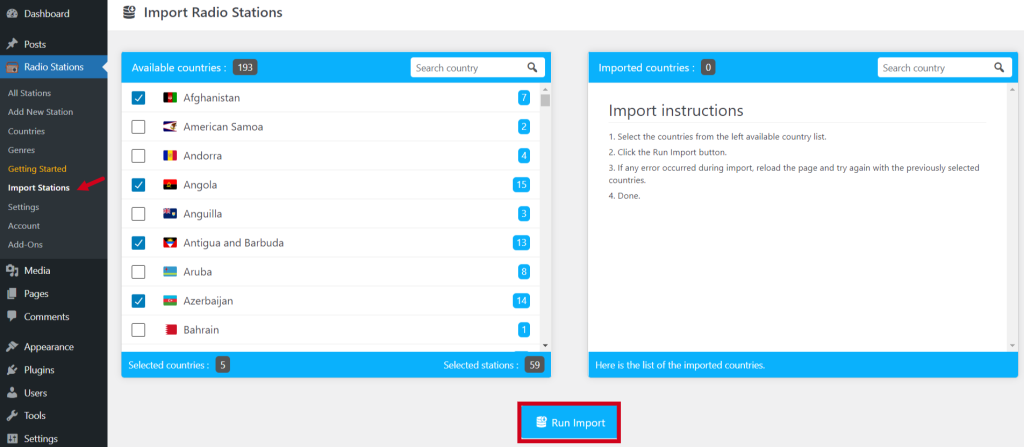 Manually Station Add
Navigate to Radio Stations > Add New Station > Enter Station Title, Description, Stream URL, Slogan, Logo, and other information. Click Publish to finally import the station manually.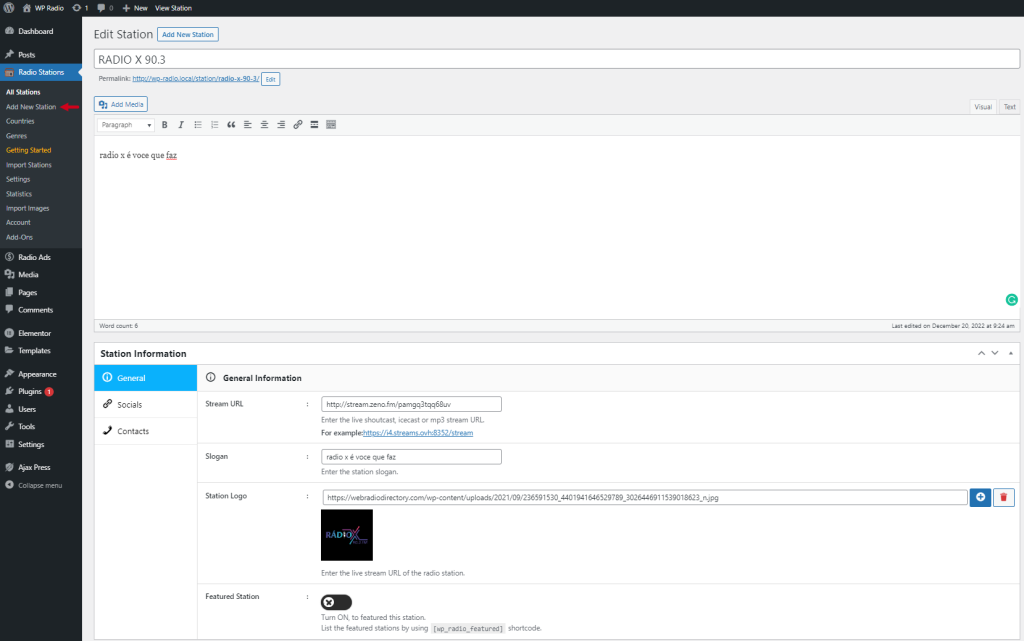 Step-4: Customizing Player & Settings
Once you have successfully imported stations properly, it's time to customize the player appearance, general settings, display settings, image settings, color settings, and others to properly adjust the player depending on your need, theme, and user expectations.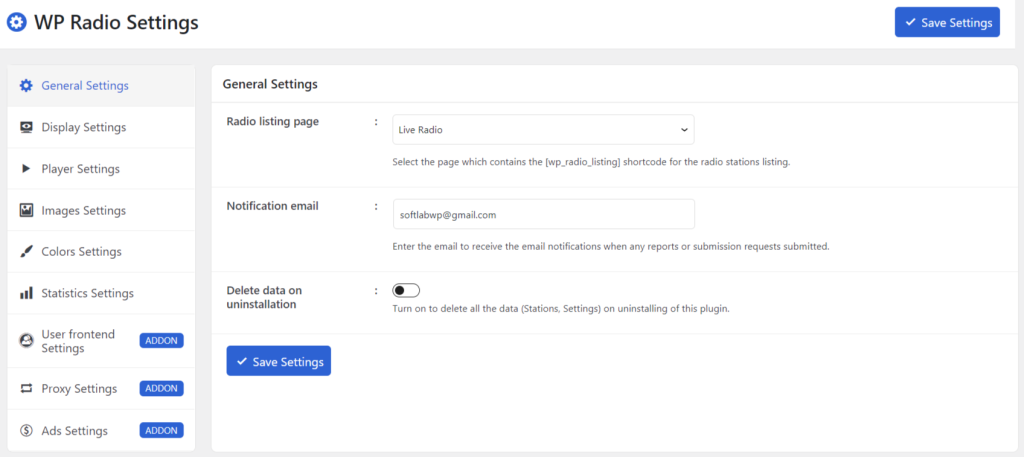 Benefits of Running an Online Radio Directory Website
There are a bunch of benefits if you are thinking of building an online radio directory website on WordPress. Such as user freedom, making passive income modules, easy setup, less effort, and many more. I will discuss them one by one below so that you might get a clear picture easily.
User Freedom
Online radio directory website is highly applicable in terms of user freedom. Users can enjoy their preferred radio stations in one place all over the world. Whatever countries they are from, they can browse and listen to all available stations directly inside your WordPress radio directory website. They don't bother to head over here and there to listen to different stations.
Making Passive Income
As a radio directory website owner, you can generate massive amounts of money without spending lots of time on it. You can generate such money by displaying ads, doing affiliate marketing, selling banner ads, selling your own products & services, and whatnot. If you can implement things properly, you can make these simple steps into a successful business model for yourself.
Less Effort
As I mentioned earlier this type of website doesn't take much effort to build. If you use the auto station import method, you can import more than 52,000 stations within a few minutes. Again you don't need any single coding knowledge to set up all those things for you.
Easy to Maintain
If you create an online radio station by using the WP Radio plugin, it's super simple to maintain. Just you have to check if the stations are working perfectly or not. By the by, users will automatically inform you if they are facing any difficulties playing stations. You don't have to spend time and keep digging for errors and fixing them.
Conclusion
You might have noticed how easy it is to create an online radio directory website on WordPress by using the WP Radio plugin. In this guide, I have given step-by-step guidelines that will dive you into a new business model.
And you already get a clear picture of how profitable it can be for you. The reason I shared this method is, that people always look for easy modules that can turn into a money-making machine. I believe there is no better option than that. If you still have any questions regarding this method make sure to comment down below. Our experts will reach you soon!