Can you play your online radio station on your WordPress website?
That's the most common question you might ask yourself before running an online radio stream.
The answer is Yes!
You absolutely can play your own online radio stations on your WordPress website with the help of some awesome plugins.
In this age of the Internet, people are not likely interested in listening to traditional offline Radios. Rather than listening to offline radios, people prefer listening live radio using apps or websites.
So let's find out the best online radio plugins for WordPress that will allow playing your radio station on your WordPress website.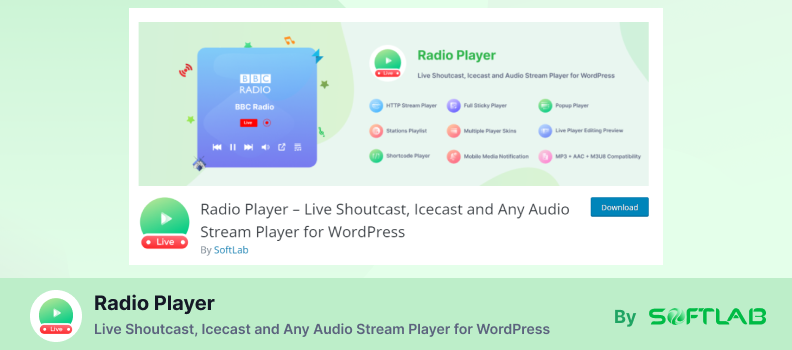 Radio Player is the most advanced, simple, easy-to-use, and fully customizable web Radio Player for WordPress websites developed by SoftLab.
It's specially configured to play any MP3, Shoutcast, IceCast, Radionomy, Airtime, Live365, radio.co, and any Audio stream on your WordPress website. The most powerful and unique feature of this plugin is you can play an HTTP stream on an HTTPS website.
There are many other features included in this plugin that reflects Radio Player as the most useful in the particular category.

Let's discover Radio Player's exclusive features:
Shortcode Player

Current Track/ Song Metadata Display

MP3 + AAC + M3U8 Compatibility

Add Unlimited Players

10+ Attractive Player Skins

Mobile Media Notification

Player Duplicator

Realtime Player Editing Preview

Player Embed Code

Multiple Instances

Gutenberg Block

Elementor Widget

HTTP Stream Player

Sticky Player

Specific Pages Sticky Player

Multiple Player Skins

Play History

Multiple Radio Stations

Stations Playlist

Play Statistics

Popup Player

Customize Popup Player Size

Color Customizations

History Icon

Show Artist Name

Artwork Image
Pricing: Radio Player plugin has a FREE version available. This plugin's premium version is starting from $39.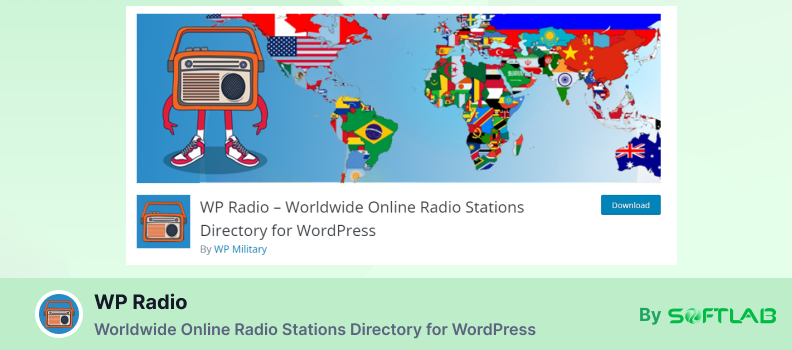 WP Radio is yet another exciting creation by SoftLab. It's a worldwide online radio station directory plugin for WordPress. If you are planning to turn your website into a giant radio directory there is no better option than WP Radio.
You can easily create a full-featured online radio directory website with the WP Radio plugin. WP Radio features pre-included 52000+ online radio stations from around 190+ countries all over the world.
You can also add unlimited radio stations (Icecast, Shoutcast, Radionomy, Radiojar, RadioCo, .m3u8, etc) of your own.
It means you users don't need to go anywhere else to enjoy different radio stations. All will be in one package if you integrate your website with the WP Radio plugin.
Here are some crazy features that the WP Radio plugin provides you:
Radio Stations Listing

Radio Stations Importer

Add Unlimited Radio Stations

Sticky Player

Stations Search

State/ City Region List

Current Song Title

Mobile Media Notification

m3u8 Extension Supported

Gutenberg Blocks

Elementor Widgets

Country Based Listing

Shortcode Player

Popup Player

Multiple Listing Layouts

Recently Played Tracks Playlist

Stations Play Statistics

Admin Dashboard Chart Widget

Statistics Email Reporting

Country List

Color Customizations

Trending Stations

Featured Stations

AJAX Loading
Pricing: WP Radio plugin has a FREE version available. This plugin's premium version is starting from $39.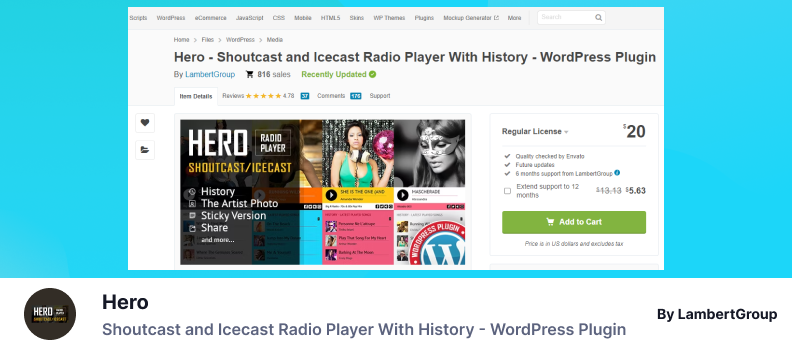 Hero is known as the most successful online radio plugin developed by LambertGroup. Comparing other online radio-related plugins, they just nailed their creation including unmatched & unique features in it.
This ultimate radio plugin for WordPress allows ShoutCast, IceCast, AzuraCast, RadioJar, and many other integrations without any hassle or coding knowledge.
Hero allows you not only to play radios on the WordPress website, but it's also compatible with Android, iOS, HTML5, and many more.
Let's directly move into the exciting features that will fall you in love with the Hero itself.
Hero Plugin Features
Shoutcast & Icecast Support

Only Radio Stream Needed

Responsive Design

Mobile Compatibility

Artist Image

Highly Customizable

Sticky Version

History

Show/Hide History

Share

Multiple Instances

Show/Hide Buttons

Multiple Parameters
Pricing: Hero is available in multiple pricing packages. The Regular License costs you about $12 and the Extended License costs you around $175.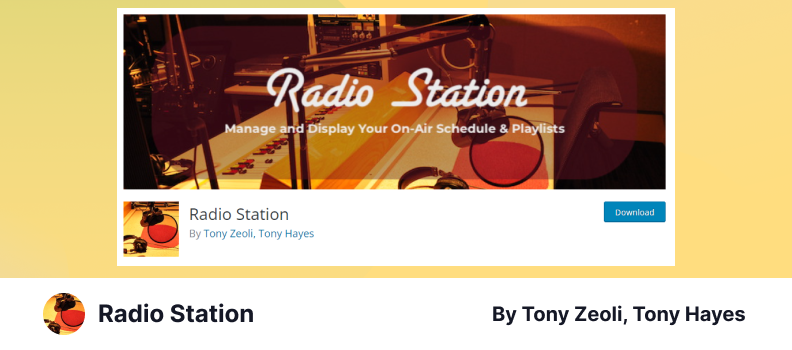 Radio Station Plugin has been developed by Tony Zeoli & Tony Hayes to build and manage a Show Schedule for a radio station or internet broadcaster's WordPress website.
If you're a podcaster with scheduled releases or a Clubhouse app moderator who schedules rooms, you could use this plugin to announce your schedule on your WordPress website.
The plugin adds a new "Show" post type, schedulable blocks of time that contain a Show description, a Show shifts repeater field, assignable images, and other meta information.
You can also create Playlists associated with those shows, or assign standard blog posts to relate to a Show.
Here are some of the Cool features Radio Plugin Provides:
An Updated Show Page Layout (based on Content Filters, not Templates)

Responsive Schedule Views (with integrated Override support)

Revamped Schedule calculations (with Show Shift Conflict Checking)

Producer and Show Editor Roles (for improved Show management)

Language Taxonomy Assignments (for Shows and Overrides)

Admin Plugin Settings Page (with a plethora of new options)

Radio Station Data API via the WordPress REST API!
Pricing: Radio Station Plugin doesn't cost you a penny. It's totally FREE to use all the features.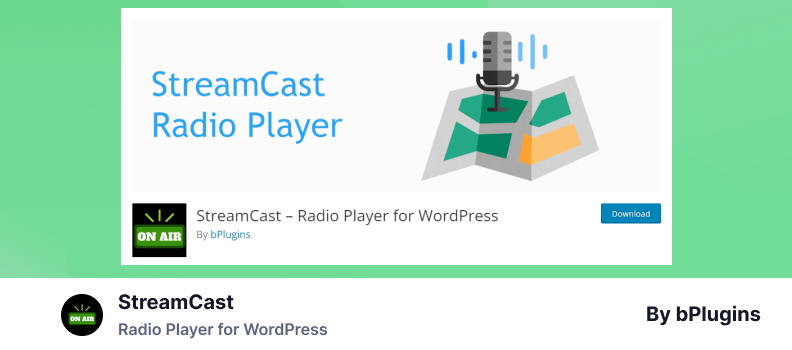 StreamCast is another entry-level Radio Player for WordPress By bPlugins. A simple, accessible, user-friendly, and fully customizable radio player for WordPress. You can play Icecast, Shoutcast, Radionomy, Radiojar, Radio.Co Live stream in WordPress website using shortcode.
StreamCast is yet another solution that brings your own radio stations to stream inside your WordPress website.
Cool right?
I have to discuss the StreamCast plugin's exclusive features that might help you gather the right idea about the plugin.
Here they are:
Responsive Design

Position Customization

Multiple Player Type

80+ Stunning Player Skins

Easy Controls

Set Background Image or Color

Sidebar Widget

ShortCode Powered

Ultimate Themes

Keyboard Shortcuts

Amazing Accessible Feature
Pricing: StreamCast has 3 different pricing packages. Single site license costs $49.99/ year, 5 sites license costs $119.88/ year, and unlimited sites license costs 323.88/ year.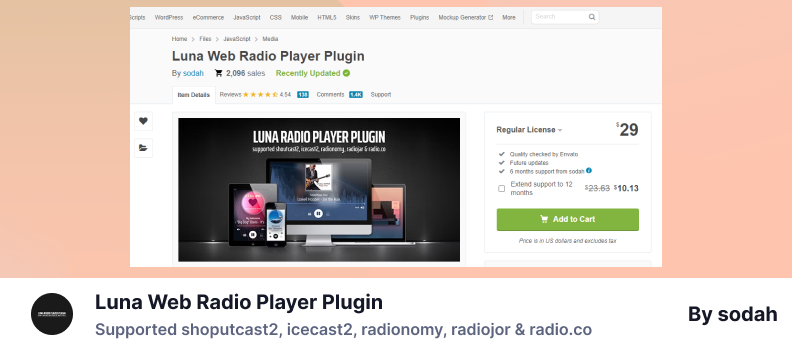 Luna Web Radio Player is the world's first browser-based native HTML5 live stream player radio in the fourth generation. Luna allows playing all MPEG-Audio and AAC-Audio streams along with MP3 and is written in JavaScript compatible with iOS, Android and supports all browsers Firefox, Chrome, Safari, IE, and Opera! It works responsive and allows you to rapidly weave cross-platform radio streams into your web pages (especially WordPress).
As I mentioned about MP3 compatibility earlier, HTML5 MP3 Radio FM MP3 Stream Player can grab "Song Information" on the player as Stream Title for standard Shoutcast 2, Icecast 2, Radionomy, Radiojar, and Radio.co.
Let's find out the coolest features included in Luna Web Radio Player:
2 Different User Interfaces for Small & Big Layouts

Can Play all MPEG-Audio and AAC-Audio

extensive platform support (Desktop, Android, iOS)

HTML5 Live Streaming Technology

Display Song Information & Cover Image

Small and Simple Design

Fully Responsive

Dragable Volume Slider

7 Audio Visualizer Effects

Multiple Instances Feature
Pricing: Luna is available in multiple pricing packages. The Regular License costs you about $29 and the Extended License costs you around $1024.
Which Radio Plugin Should You Pick?
Well, you might have gone through these best radio plugins for WordPress. But still unable to decide which one should you pick?
I will help you out!
So far I have tested the Radio Player looked perfect on my end. It updates frequently, has user-friendly interfaces, rich features that a radio player plugin must have, and most importantly fast customer support.
Now the decision is all yours which one you are going to pick. Hope I have introduced some handy Radio Plugins for WordPress that can give your website a better entertainment vibe.