WPFroms is known as one of the popular form plugins for WordPress. It creates a clean, fresh, and easy interacting contact form for your website users. Using the WPForms plugin users can easily submit queries and questions via the contact page.
But don't you want to make WPForms better for your users and for yourself as well?
I assume you want to do that desperately!
In this article, I suggest a few best WPForms Addon Plugins that will significantly add more options for WPForms. Those will enhance WPForms usage to the next level for both you and your website users.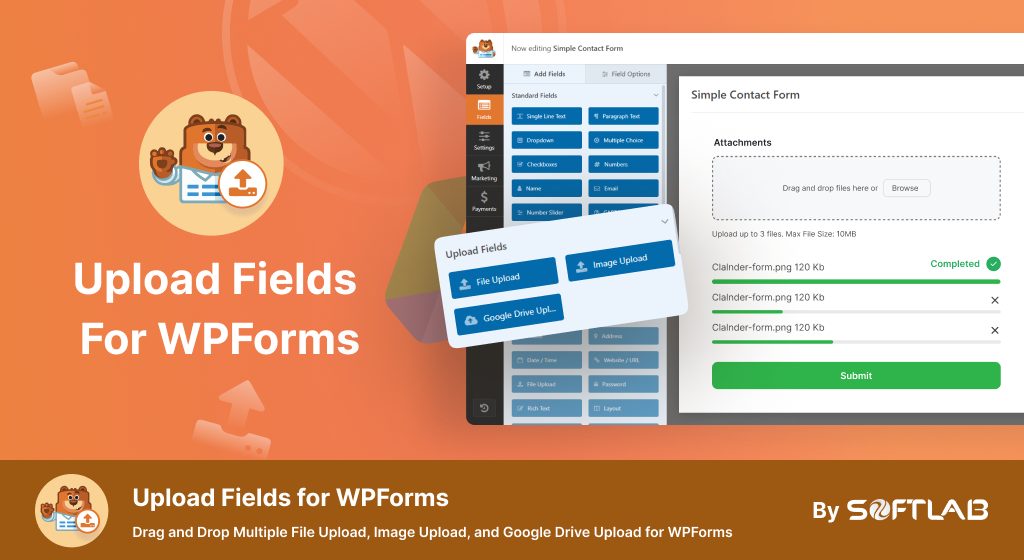 Upload Fields for WPForms is an addon plugin for WPForms that creates simple drag-and-drop multiple file upload, image upload, and Google Drive upload fields for WPForms.
By using this addon plugin users can upload any documents & image files, audio & video files, and almost everything. The developer made this plugin simple so that every level of people can easily interact with this awesome creation.
Features
Drag and Drop Upload – Upload files by dragging and dropping them into the upload field. Your users can upload almost each and every file they want.
Multiple File Upload – Upload multiple files at once. This feature allows uploading multiple files and submitting them together.
Image Upload – Drag & Drop image upload capability and display them in a preview mode while uploading.
Google Drive Upload – Upload files and store them in a specific folder in Google Drive.
File Size Limit – Limit the size in MB that can be uploaded.
File Type Limit – Limit the type of files that can be uploaded.
File Count Limit – Limit the number of files that can be uploaded.
Save to Media Library – Save uploaded files to the Media Library.
Easy Google Drive Integration – Easily integrate with Google Drive without creating a Google API project.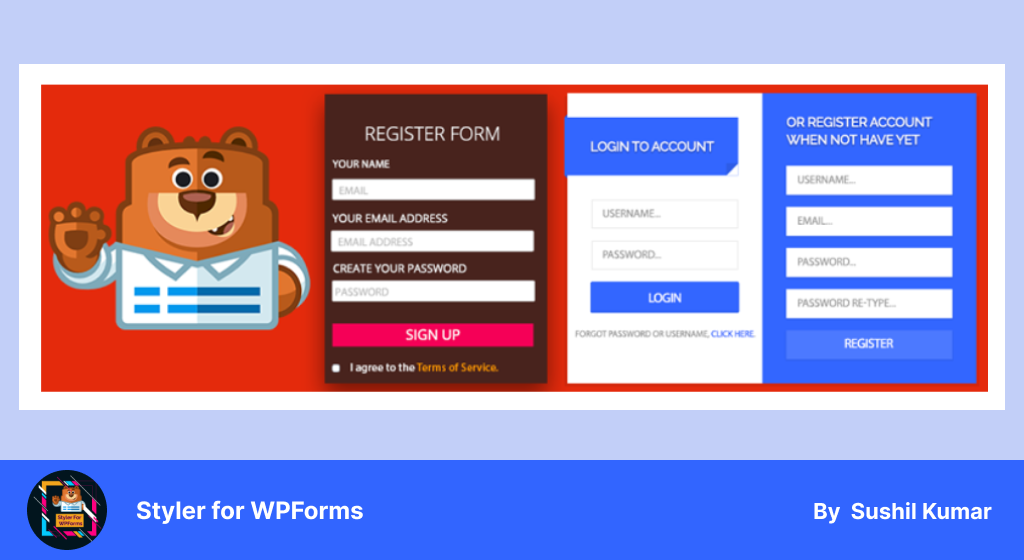 Styler for WPForms lets you create beautiful & attractive designs for WPForms. It uses WordPress Customizer so you and your users get a true experience while interacting with the form.
It comes with 100+ options to customize various parts of WPForms like form wrapper, form header, submit button, radio inputs, checkbox inputs, paragraph text area, labels, section breaks, descriptions, text inputs, and more. All those features make the form look more professional than before.
Read Also: Best Contact Form 7 Addon Plugins
Features
Background Color – Change the background of WPForms
Font Size – Customize the font size
Font Family – Select the preferred font family
Borders – Customize the borders if you would like to display
Width – Set the width of WPForms
Text Alignment – Customize text alignment depending on your need
Margin & Padding – Set margin & padding however you are expecting
Bootstrap for WPForms (Pro) – Bootstrap for WPForms Forms is an easy-to-use addon to add a bootstrap design in one click.
Tooltips for WPForms (Pro) – The tooltips for WPForms addon gives you the option to add tooltips in field labels with ease.
Field Icons for WPForms (Pro) – Field Icons for WPForms lets you add Fontawesome Icons ( 500+ ) inside inputs and text area fields.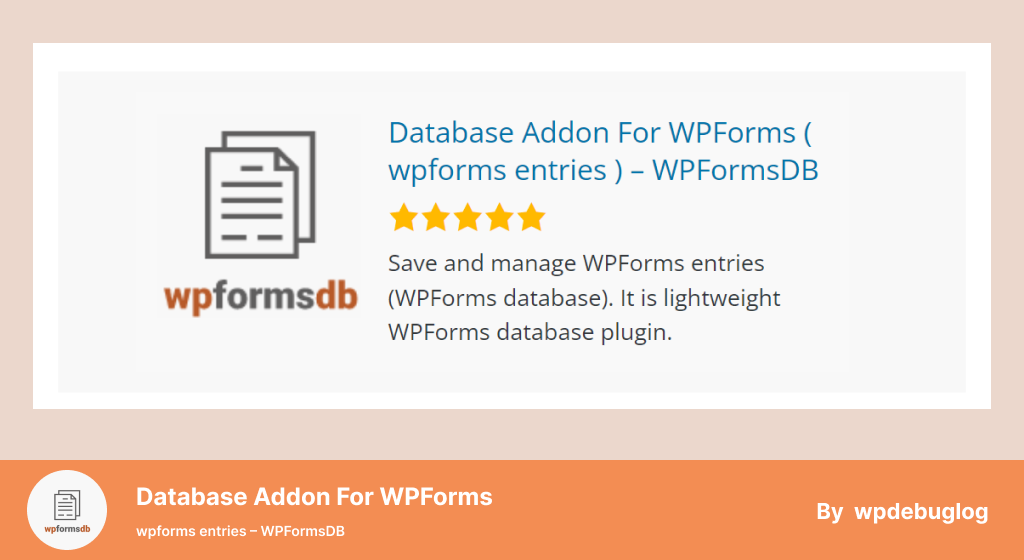 The database is useful in terms of storing essential information of users, buyers, customers, and many others. The WPFormsDB is one of the most straightforward database plugins that save WPForms entries to your WordPress database.
By simply installing the plugin, it will automatically begin to capture form submission data from WPForms. You can Export the captured data to a CSV file with one click.
Features
Single Database Table for All Forms – Creates a single database for all forms
Easy to Use and Lightweight – WPFormsDB is an easy-interacting straight-forward plugin in minimal size.
Developer Friendly & Easy to Customize – An environment that is highly suitable for both developers and general users.
No configuration is needed – Doesn't require any configuration. Simply plug in and start playing with this plugin
Advanced MySQL database for WPForms (Pro) – Creates Advanced MySQL database which is useful for website owners.
WPForms to PostgreSQL (Pro) – Automatically connects WPForms to PostgreSQL and creates a database in separate tables & columns.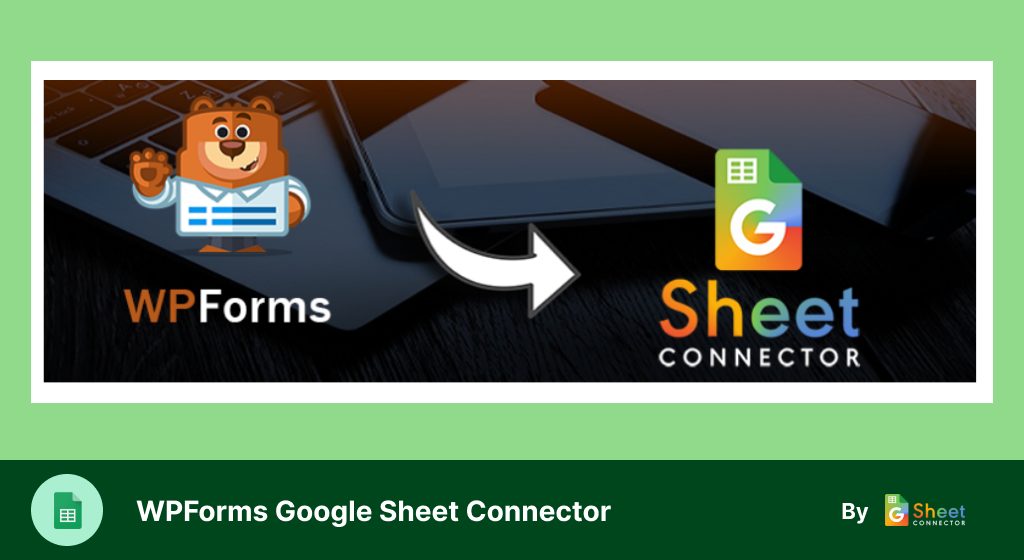 WPForms Google Sheet Connector is an Add-on plugin of WPForms. It is like a connector between your WordPress-based WPForms and Google Sheets. This plugin helps to record the submitted entries in real time inside Google Sheets.
When a visitor submits the form on your website, the form data upon sent and stored inside Google Sheets. So that you can check everything in a single file and take action properly. This plugin is fully Compatible with WPForms Lite and PRO Versions.
Features
Custom Google API Integration Settings
Allowing to Create a New Sheet from Plugin Settings
Custom Ordering Feature / Manage Fields to Display in Sheet
Enable-Disable / Edit Fields/ Headers Name to display in Sheets
Using all the Smart Tags Fields in Headers
Synchronize Existing Entries for WPForms PRO users\
Freeze Header Settings
Header Color and Row Odd/Even Colors.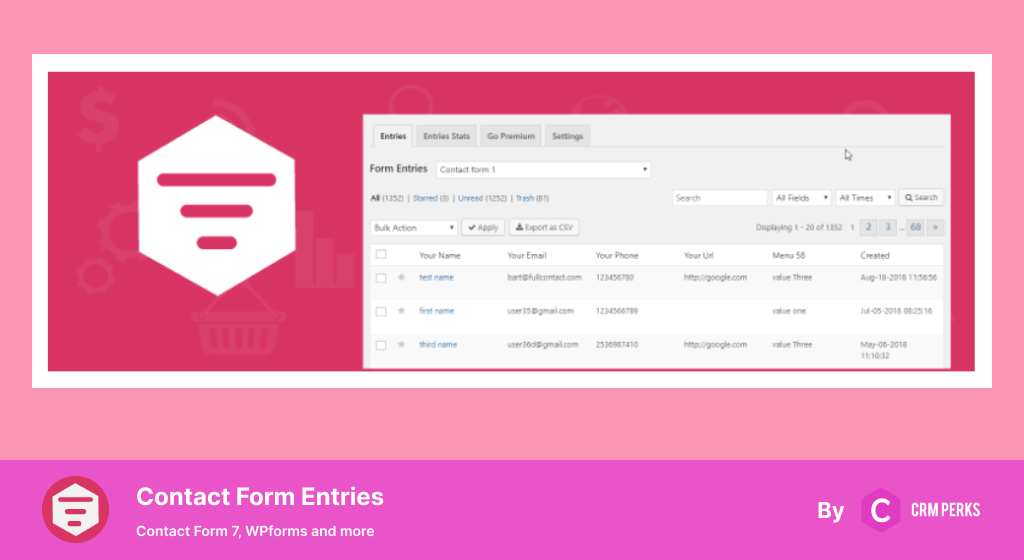 Contact Form Entries Plugin automatically saves form submissions from WPforms, Contact Form 7, CRM Perks Forms, and many other popular contact form plugins to the WordPress database.
When anyone submits a form, the whole data will be stored in your WordPress database. After that, you can easily interact with it and take sufficient actions if required.
Features
You can view all contact form entries in the default WordPress table form.
Search contact form entries by all or specific fields.
Filter contact form entries by Date.
You can mark contact form entries as read or unread.
You can star or un-star contact form entries.
Print all or select contact form entries
Select entries table columns from "Screen Options".
The file field of an entry supports multiple files.
Add edit notes to any contact form entry.
Display contact form entries on any WordPress page in sortable table form.
Export contact form entries in CSV format.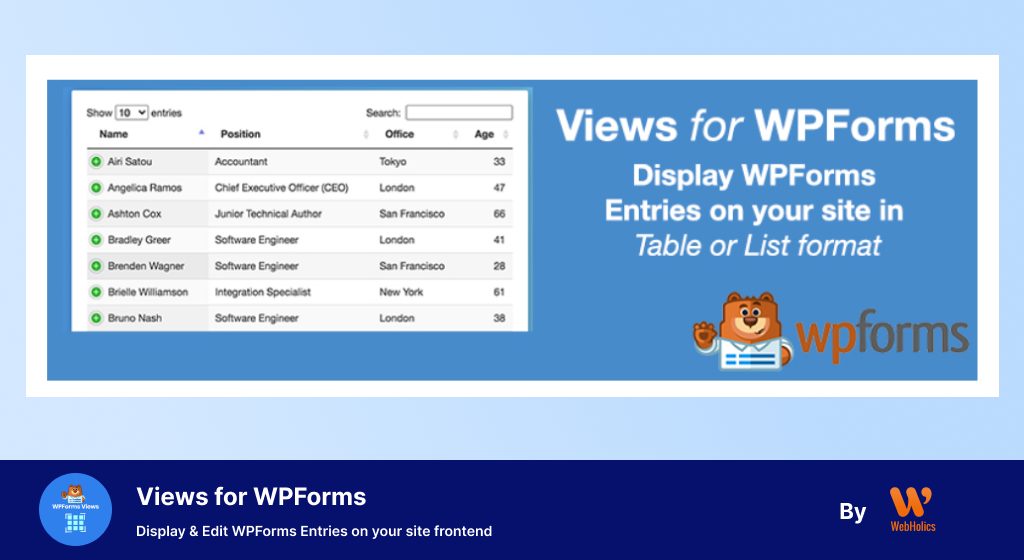 Display WPForms Entries anywhere on your site using drag & drop View builder. Now you don't need to go anywhere else to view WPForms entries. This plugin's simple functionality will let you track all data from the website's front end. Views for WPForms can be a handy plugin for you.
Build directories, create job portals, and display entries in the table or list format on the site front end. You can also create a table view, list view, or data table, add content before & after the View, set the number of Entries to display on a page, and many other exciting features.
Features
Intuitive user interface!
Easy to use – drag and drop view builder!
Option to set form fields to show in View.
Option to set custom labels for table headings.
Option to set a number of entries to show on the page.
Add pagination before or after the table.
Display Pagination Information.
List View Format (Pro)
DataTable View Format (Pro)
Edit Entries from the front end (Pro)
Delete Entries from the front end (Pro)
Display only approved Entries (Pro)
Display only User submitted Entries (Pro)
Advanced Search option (Pro)
Display Entry details on a Single Page (Pro)
Add Custom HTML field & use WPForms Smart Tags inside View (Pro)
Filter entries by field values or use Merge Tags (Pro)
Sort WPForms Entries via field values (Pro)
Display Only starred entries & viewed entries (Pro)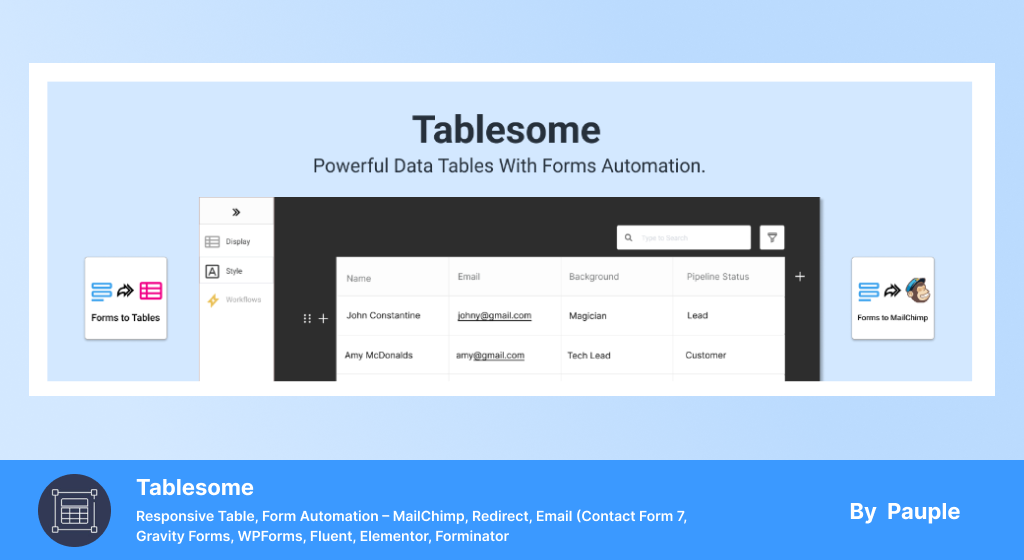 With Tablesome you can save contact form submissions, redirect after form submission, create responsive data tables & post tables, import and export tables & entries as CSV & XLSX files, and many more. It has the capability to automatically export data to Mailchimp, Notion, and more in the pipeline.
This plugin doesn't have only WPForms compatibility but it also works for most popular contact forms such as Contact Form 7, Gravity Forms, Fluent Forms, Forminator, Elementor Forms, and many others.
Features
Powerful Email Automation
Connect WordPress forms to the Notion database
WPForms, Gravity Forms, Contact Form 7, Fluent Forms Compatibility
Limited to Single Trigger & 3 Actions per workflow
Store images from Form File upload in WP Media Library
Connect WordPress forms to Mailchimp
Customize tables with style themes
Import entries and tables from CSV and XLSX format
Responsive table display modes
Add media to tables – GIFs, Audio, Video, and more
Table formats – Text, Number, rich text, Image, Date and time, URL, Email, and more
Unlimited Triggers and Actions (Pro)
Display WP post content in tables – Posts, Pages, and any CPTs (Woo Product table) (Pro)
Export: Backend, Frontend, and Filtered export for table data. Supported formats include CSV & XLSX (Pro)
Drag and drop reorder table rows (Pro)
Add Call To Action buttons to tables (Pro)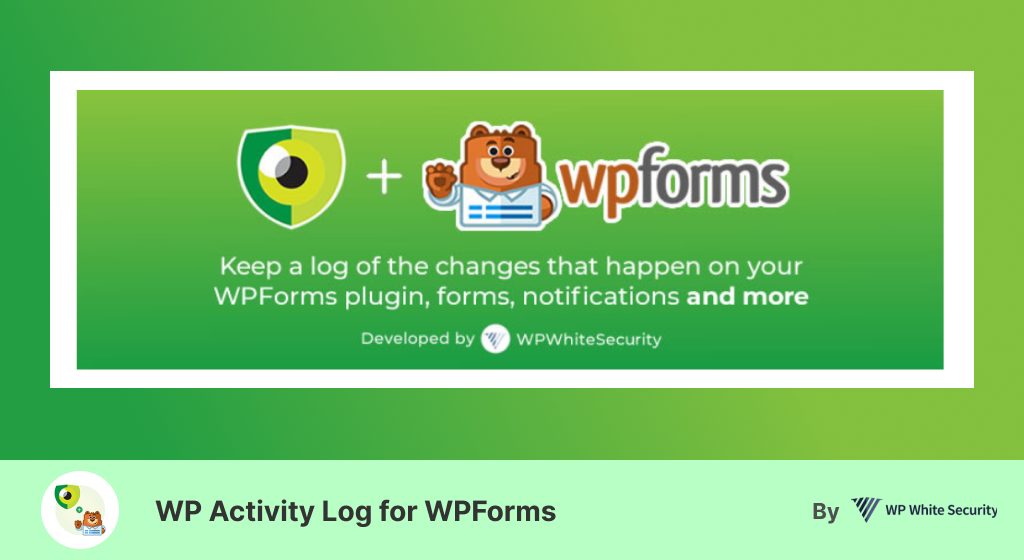 WP Activity Log is the most comprehensive and real-time activity log plugin for WPForms. It helps thousands of website owners to keep an eagle eye on what is happening inside their websites.
This plugin always keeps a record of the changes on your WPForms plugin, when someone creates, modifies, or deletes a form. Track all your WPForms activity with this simplest plugin created by WP White Security.
Features
Adds a new form
Modifies duplicates renames, or deletes a form
Adds a new field in a form
Modifies, or deletes a field from a form
Deletes or modifies an entry
Adds, enables, modifies, or disables notifications in forms
Changes in the access plugin's control settings
Conclusion
I have already discussed a few WPForms Addon Plugins that will Extend WPForms Functionality for both you and your users. Each addon plugin has a different and unique working capability that might be useful from person to person. Check which one might be useful for you and keep playing with them. All of them will significantly improve WPForms usage to the next level.