Gallery plugins for WordPress have become an integral part of many website builders' arsenals, as they offer a great way to present images and videos in a visually stunning way. With so many options available in the WordPress plugin library, choosing the right one for your needs can be a daunting task.
Gallery plugins can be broadly categorized into two types – those that offer extensive customization options, and those that prioritize functionality and ease of use. The former is ideal for users who want complete control over the look and feel of their galleries, with features like animation, transition effects, and lightboxes. On the other hand, the latter are best suited for users who prioritize simplicity and ease of use, with features like a drag-and-drop interface, automatic image resizing, and built-in search capabilities.
Read Also: Best Radio Player Plugins
In this article, we will highlight some of the best gallery plugins for WordPress, based on their features, ease of use, and compatibility with popular themes and page builders. Whether you're a blogger, photographer, or online business owner, these plugins will help you create stunning galleries that will attract and engage your audience.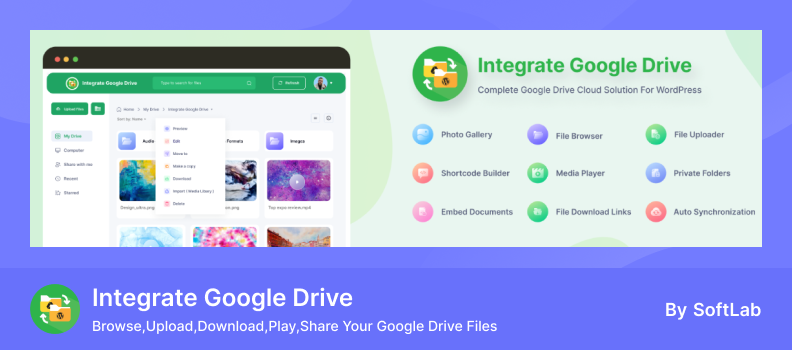 The Integrate Google Drive plugin provides a powerful solution for users looking to integrate their Google Drive directly into their websites. One of the standout features of this plugin is the ability to create stunning photo and video galleries that can be easily displayed on a WordPress website. More importantly, the created gallery will be responsible for all devices.
The image and photo gallery feature of the Integrate Google Drive plugin offers numerous benefits for WordPress users.
Firstly, it provides a convenient and efficient way for users to manage and organize their photos and videos within Google Drive, without having to worry about storage limitations or additional costs. Secondly, it allows users to showcase their media files in a stunning, visually appealing manner (also can create a slider carousel) that can be easily integrated into their website.
Finally, the plugin is easy to use and can be fully customized, making it a great option for both novice and experienced WordPress users looking to create beautiful galleries. All of those made integrate google drive one of the best photo & video gallery plugins for WordPress.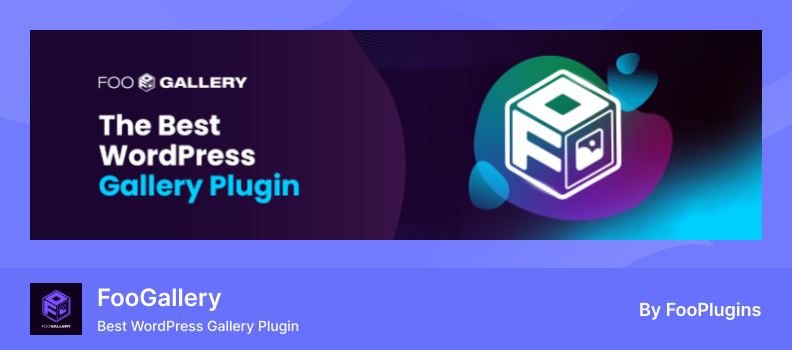 FooGallery is a WordPress gallery plugin that offers a wide range of pre-built gallery templates to add stunning galleries to your website quickly. It is easy to use and customizable, allowing you to create galleries that look exactly how you want them to. Additionally, the plugin is optimized for performance and SEO, ensuring fast loading times and excellent search engine rankings.
The plugin is also responsive and retina-ready, ensuring that your galleries look great on any device, and supports lazy loading to speed up the loading of large galleries. Live previews are available while creating galleries, and the plugin also includes a Gutenberg block editor for added convenience.
Furthermore, FooGallery is highly configurable and extendable, making it an excellent choice for developers and freelancers who want to customize their galleries further. Overall, FooGallery is a fantastic WordPress gallery plugin that provides excellent features and flexibility to create stunning image galleries for your WordPress website.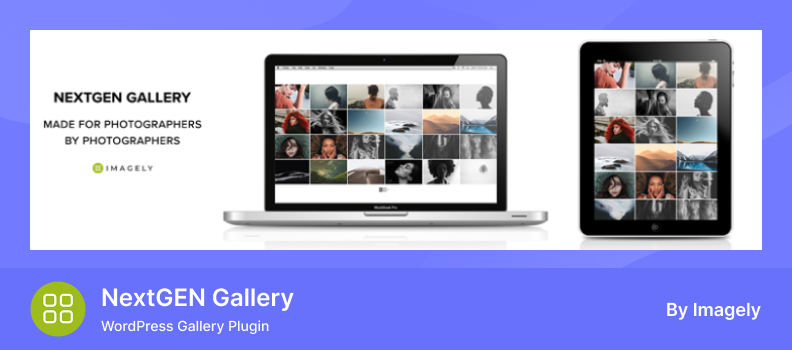 NextGEN Gallery is known as the best photo gallery plugin for WordPress that has been setting the standard in the industry since 2007, with over 1.5 million new downloads every year. The plugin offers a complete gallery management system on the back end, making it easy to batch upload photos, import metadata, add, delete, rearrange, sort photos, edit thumbnails, group galleries into albums, and more.
Both the free & pro version of NextGEN Gallery offers numerous features like main gallery styles, including slideshow, thumbnail, and image browser galleries, and two album styles, compact and extended, with a wide array of options for controlling size, style, timing, transitions, controls, lightbox effects, and more. Moreover, the plugin is highly customizable and offers a range of add-ons and extensions to enhance its functionality further.
NextGEN Gallery also offers full support for the Gutenberg block editor, allowing users to add galleries or albums anywhere on their website with a page builder-type feel directly in the WordPress editor. It's an excellent option for photographers, artists, and other creatives who need a powerful yet user-friendly gallery management system for their WordPress website.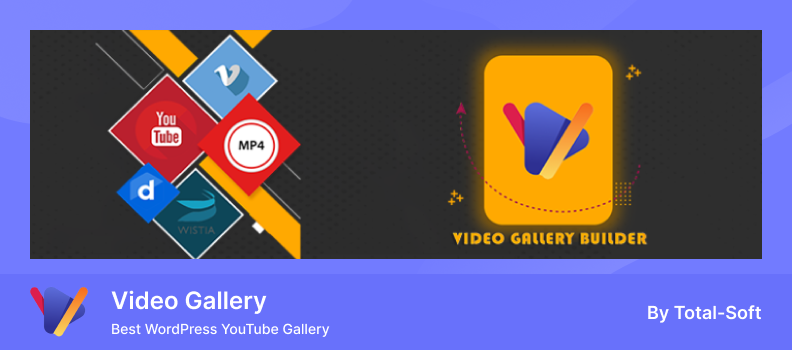 The Video Gallery plugin is a powerful and responsive tool for displaying videos as a gallery on your WordPress site. It supports a range of video platforms including YouTube, Vimeo, and Wistia, and comes with 16+ free gallery themes to choose from. The plugin is fully responsive, meaning it will automatically adjust to fit any screen size and display your videos in a high-quality and beautiful design.
One of the standout features of the Video Gallery plugin is its user-friendly editor, which allows you to easily edit galleries, add, edit, or delete videos, and customize your video gallery with a range of options such as hover effects, pagination, and custom links.
The premium version of the plugin offers even more features, including 10 different effects for opening the gallery and a range of animation options for displaying videos. With its ease of use and range of features, the Video Gallery plugin is an excellent choice for anyone looking to showcase their videos in a beautiful and responsive way on their WordPress site. All of the features made video gallery, one of the best video gallery plugins for WordPress.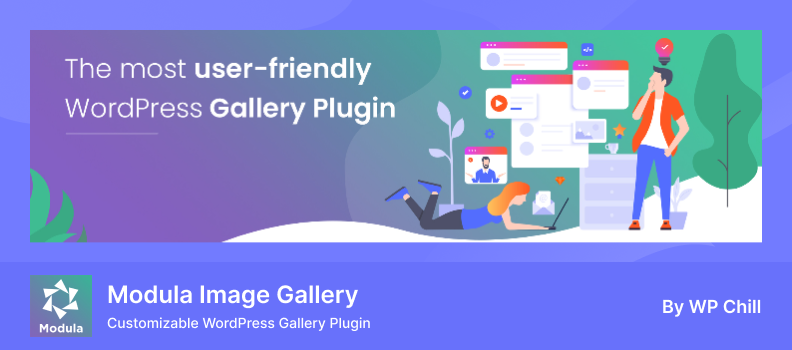 Modula is a customizable WordPress gallery plugin that makes it easy to build stunning lightbox galleries, masonry grids, custom grids, and more with just a few clicks. This stunning gallery plugin provides users with an intuitive and easy-to-use interface that allows them to create and customize their galleries in no time.
With a range of features available for both the free and premium versions of the plugin, users can easily create galleries that meet their unique needs. Whether you need to create a simple image gallery or a complex video gallery, Modula Image Gallery provides the tools you need to build stunning, responsive galleries that look great on any device.
Modula features some exciting functionality, including presets for quickly creating galleries with the same settings, video gallery support, lightbox slideshow, password protection, slider gallery, gallery filters, albums, the deep link for better SEO, image loading effects, hover effects, a gallery with pagination, zoom effects, image download functionality, display of EXIF data, right-click protection, watermark images, advanced shortcode, speed optimization, white label customization, fullscreen display, and role management. Additionally, support and updates are included for one year with each purchase.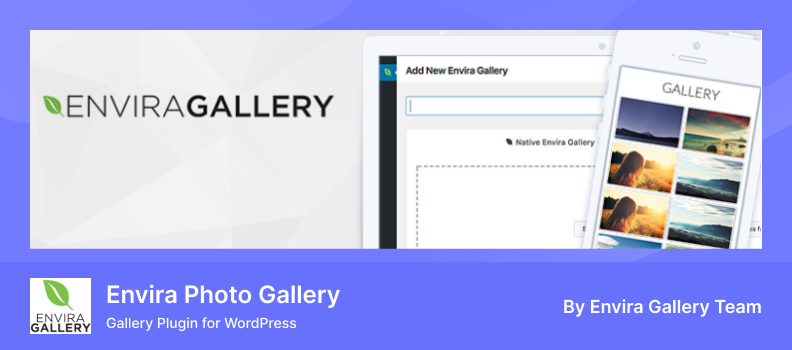 Envira Photo Gallery is the ultimate solution for creating stunning photo & video galleries on your WordPress website. With a powerful drag & drop builder, you can easily upload and arrange your media in just minutes, without the need for a developer.
One of the standout features of Envira is its optimization for speed and performance. This means that not only will your galleries look great, but they will also load quickly and be easily searchable by search engines. Plus, Envira is fully mobile responsive, ensuring your galleries will look great on any device.
In addition to being optimized for speed and performance, Envira also works seamlessly with popular page builders like Elementor, Beaver Builder, and Divi. This means you can easily integrate your galleries into your website design, without any technical headaches.
Whether you're a professional photographer or simply looking to showcase your favorite photos and videos Envira Photo Gallery is the ideal choice for creating beautiful, high-performing galleries on your WordPress website.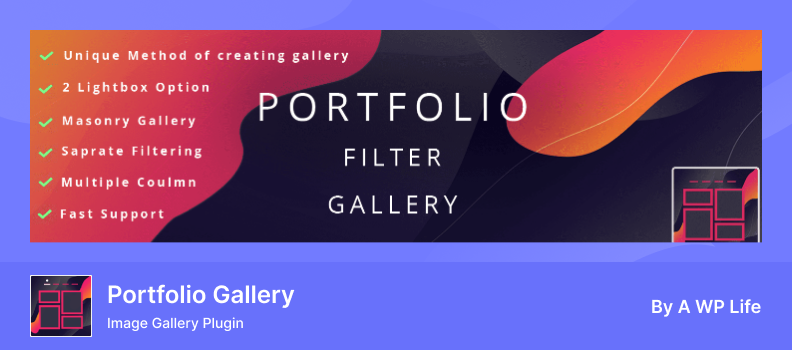 Portfolio Gallery is the best portfolio gallery WordPress plugin for creating stunning and responsive portfolio galleries on your website. It is incredibly easy to use and works flawlessly on all devices, including desktops, tablets, and mobiles.
One of the standout features of Portfolio Gallery is its ability to create filters for portfolio galleries. With filters, you can easily organize your portfolio and allow visitors to view specific projects based on their interests. The plugin also includes a responsive bootstrap image lightbox, which ensures that your images look great on all devices.
Portfolio Gallery offers multiple-column layouts, allowing you to display your image & video in two, three, or four columns. You can also add numbering and titles to your images, and choose to display your gallery with or without spacing. Additionally, the plugin offers a Grayscale effect, which adds a stunning touch to the created gallery.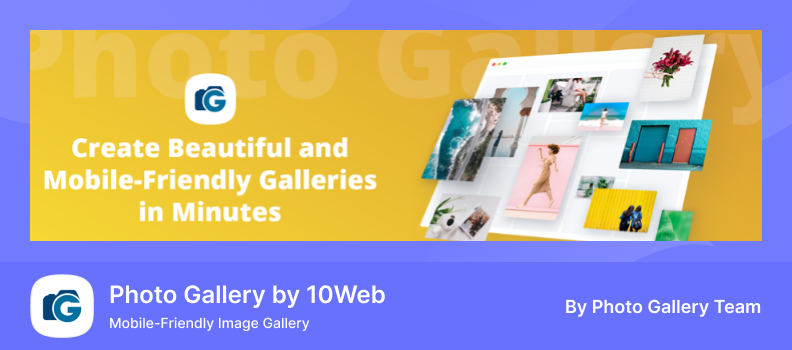 The Photo Gallery plugin by 10Web is a user-friendly and feature-rich tool for creating responsive galleries and albums for WordPress websites. The plugin comes with a variety of customizable views, unlimited photos, galleries, and albums, a powerful lightbox, audio, and video support, multiple widgets, image watermarking, right-click protection, and social sharing options.
Using images and photos in posts and pages increases visitor engagement, enhances SEO, and improves page navigation and user experience. Organized galleries and albums make websites look more professional and aesthetically pleasing. Photo Gallery provides several view options, including Slideshow, Thumbnails, Masonry, Image Browser, Extended and Compact Album, Blog Style, and Mosaic, allowing users to customize the layouts to suit their needs.
The plugin's powerful lightbox supports 15 slideshow effects, social sharing, full-width view, filmstrip, and lightbox autoplay, making it easy to display media content in an aesthetically pleasing and responsive manner. Audio and video support allows users to include both videos and images within a single gallery, with support for YouTube, Vimeo, Instagram, Flickr, or Dailymotion videos.
Read Also: Best Google Drive Plugins
Conclusion
Choosing the right gallery plugin for your WordPress website can be a challenging task. However, by considering factors such as customization options, ease of use, compatibility, and features, you can select a plugin that best suits your needs. The most useful gallery plugins highlighted in this article, Integrate Google Drive, FooGallery, NextGEN Gallery, Video Gallery, and Modula, all provide excellent features and flexibility to create stunning photo and video galleries on your WordPress website.
Whether your need is, these plugins offer various functionalities that can help you showcase your images and videos in a visually appealing way, improve your website's performance, and increase engagement with your audience. By incorporating any of these plugins, you can create a unique and compelling online gallery that captures the attention of your audience and makes your website stand out.
FAQ & Answers
Here are some of the most asked questions related to the best gallery plugins for WordPress websites. If you have some questions get answers here:
Can I use a gallery plugin for both photos and videos?
Yes, many gallery plugins for WordPress can handle both photos and videos. Ex: Integrate Google Drive. However, you should check the features and specifications of the plugin you're interested in to make sure it supports both media types.
Are gallery plugins for WordPress easy to use?
Yes, most gallery plugins for WordPress are designed to be user-friendly and easy to use, even for those without technical expertise. However, the level of complexity may vary depending on the plugin you choose, so it's important to do your research and choose a plugin that fits your needs and skill level.
Can I use a gallery plugin to create multiple galleries on my WordPress site?
Yes, most gallery plugins for WordPress allow you to create and manage multiple galleries on your site. This can be useful if you have a large number of images or videos that you want to display in different categories or sections of your site.
Are gallery plugins for WordPress compatible with mobile devices?
Yes, most gallery plugins for WordPress are designed to be responsive and compatible with mobile devices. This means that your galleries will be optimized for viewing on smartphones and tablets, as well as desktop computers.
Can I use a gallery plugin to create a slideshow or carousel on my WordPress site?
Yes, many gallery plugins for WordPress offer slideshow or carousel functionality that allows you to create dynamic and interactive displays of your images or videos. This can be a great way to showcase your content and engage your audience.