Welcome to the digital era, where opportunities are countless to create and sell digital goods. It has never been a better time to monetize your creativity, expertise, and abilities due to the growth of e-commerce platforms and the rising demand for online products and services.
Selling digital goods can be a successful business venture for both individuals and businesses. Digital goods have the advantage of requiring little to no physical inventory, shipping, or storage expenses.
Digital goods can be found in a wide range of formats, such as e-books, courses, webinars, software, graphic design templates, music, photography, and many more.
So sit back, grab a cup of coffee, and let's dive into the world of digital product creation and entrepreneurship ideas!
Why Sell Digital Products Online?
Selling digital products online can be a fun and profitable approach to leveraging your knowledge, expertise, and passion into money. The following are some of the principal reasons for thinking to sell digital products online:
Low Overhead Costs And High-Profit Margins
Selling digital products online is an attractive option for entrepreneurs and individuals because of its low overhead cost. Unlike physical products, digital products do not require manufacturing, storage, shipping, or handling, which reduces the overall cost of production.
Scalability and Flexibility
Digital products are scalable, which means that once you've created a digital product, you can sell it multiple times without having to create it again. This allows you to grow your business more easily and generate more revenue with the same effort.
Scalability
Selling digital products makes it easier to scale a business sky-high without adding significant overhead costs. As a digital creator, you can scale the number of products rather easily than physical products. The more products you have, the more business in your pocket.
Global reach
Digital products can be sold to relatively interested customers all over the world, which increases a business's potential customer base. With the Internet, businesses can easily reach and sell digital products to customers in different countries and regions. Which can help them reach new markets and expand their business globally.
List of Digital Products You Can Sell Online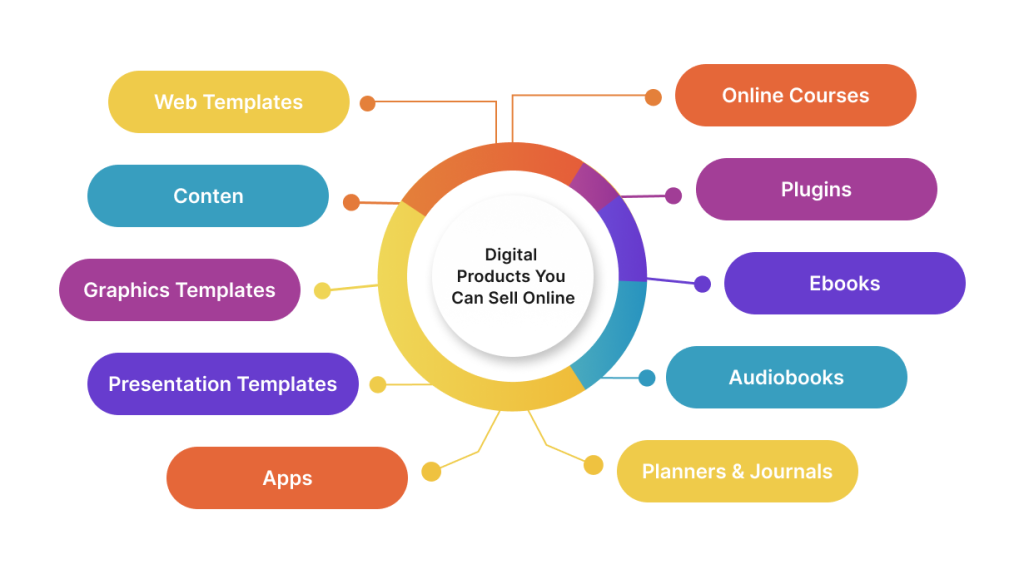 Online Courses: Digital online courses offer convenience and flexibility to learners. They can access your course content from anywhere at any time. You can design the course material in various formats, such as video, audio, and text-based content, and sell them on platforms like Udemy or Skillshare. Keep a note that the global e-learning market is projected to reach $325 billion by 2025.
Read Also: How to Share Google Drive Course Content with Tutor LMS
Ebooks: Ebooks are one of the most popular digital products that can be sold on the internet. Statistics proved that more than 524.72 thousand ebooks were sold per day and growing rapidly day by day. The reason I suggest E-books is that they are easy to create and distribute, and you can reach a vast audience without any geographical limitations. By selling ebooks, you can earn a passive income, as there are no shipping costs or production costs involved if you can do it yourself.
Read Also: How to Sell Ebooks Online
Audiobooks: Audiobooks are gaining popularity among people who don't have time to read or enjoy listening rather than reading. It's an excellent opportunity to repurpose your written content and create another digital product that can reach a broader audience. With the increasing demand for audiobooks, you can sell them on various platforms and earn a significant income.
Planners & Journals: Digital planners and journals are great tools for organizing and planning daily tasks, goals, and habits. They have rapidly used items in America to track whatever they are looking for. You can design them in various themes and styles and offer them in PDF format. These products are very popular on Etsy, Amazon, and other e-commerce platforms. By doing this simple stuff people are generating crazy money for their livelihood.
Web Templates: Web templates are pre-designed website layouts that can be customized according to the user's needs. They are a great product for web developers and designers who want to save time and offer their clients professional-looking websites. If you have knowledge or courage in building web templates you can generate passive income by selling them on various platforms like ThemeForest.
Graphics Templates: Graphics templates include design assets like logos, social media graphics, business cards, and more downloadable products. They are a great digital product for graphic designers who want to offer their clients pre-made designs that can be customized easily. You can sell graphics templates on various platforms or on your website. This sector is such a popular & demandable as more than 507,690 people in the world are working in the sector.
Presentation Templates: Presentation templates are pre-made slide designs that can be used for business presentations, webinars, or workshops. They are a great digital product for entrepreneurs and educators who want to save time and present their ideas professionally. If you have explored Canva and know how to create presentations you can create stunning templates and sell them via Etsy and other platforms.
Video Templates: Video templates are pre-made video designs that can be customized according to the user's needs. They are a great product for video creators who want to save time and offer their clients professional-looking videos or maybe for their own production. People have started making tons of money by creating video templates for different
Apps: Apps are known as software applications to run on smartphones, tablets, or computers for different purposes. They are a great digital product for developers who want to reach a vast audience and generate a recurring income more often. You can sell apps on various platforms like Google Play, the App Store, and many other renowned marketplaces.
Video Games: Video games are a kind of digital product that is very popular among all people. Not only gamers, but an average person also spends at least half an hour weekly playing games & refreshing their mind. As I said, video games offer endless hours of entertainment and can be sold on various platforms like Steam, PlayStation Store, or Xbox Live. If you're a game developer, you can earn a significant income by selling your developed games on mentioned platforms.
Plugins: Plugins are software add-ons that extend the functionality of other software programs. Mostly plugins are used in WordPress to enhance its user experience with easy interactions. They are a great digital product for developers who want to save time and offer their clients professional-looking websites or applications. All over the world people are gathering their ideas and making a plugin that solves issues that make websites or applications easier for regular users. Even you can build your own plugins and sell them on sites like CodeCanyon.
Domain & Hosting: Domain and hosting services are evergreen digital products that will be demanded till the internet is valid. For each and every person who is running a website or planning to run one – domain & hosting are a must for them. So if you have the potential to launch & provide a domain hosting service as a digital product you will win a big race.
Content: Do you know content is king for websites, social, and almost each and every sector online? And there is a huge demand for high-quality content on each platform I mentioned. You can sell various types of digital content, such as blog posts, articles, social media posts, or e-books on platforms like Upwork, Fiverr, or even on your own website.
Recipes: Recipes are a great digital product for food bloggers or chefs who want to monetize their blog or social media following. You can offer recipe e-books, video tutorials, or meal plans on your website or various e-commerce platforms. Many cooking experts are following this method and generating passive income from this arena.
Websites: Websites are a great digital product for web developers or designers who want to offer their clients professional-looking websites. Even now people with SEO knowledge are building niche-based websites, ranking them on search engines, and finally selling on sites like Flippa. This can be a great initiative to generate real-time income by selling or monetizing websites with platforms like Adsense or Ezoic.
Stock Photos & Videos: Stock photos and videos are essential for bloggers, content creators, or marketers who want to create high-quality visual content. If you have a camera or even a smartphone with a good camera you can involve yourself in this business. Various platforms like Shutterstock, iStock, or even on your website you can start selling your creation. With the increasing demand for visual content, you can earn a significant income by selling your stock assets on the mentioned platforms.
Read Also: Best Way to Sell Google Drive Digital Products on Dokan as Vendor
Conclusion
There are numerous digital products to be sold online, with their unique benefits and profit potential. Whether you are a content creator, marketer, designer, or developer, sit aside and capitalize on the growing demand for digital products.
If you have gone through the article you might discover some of the most profitable digital product ideas to get started. Choosing the right digital product to sell can lead you to a successful online business that generates high profits and provides value to customers. So, get creative, explore the options, and start selling your digital products online today!
FAQs & Answers
How can I determine which digital product will be the most profitable for my business?
To determine which digital product will be the most profitable for your business, consider your audience, their needs, and the demand for the product. Involve yourself in market research, assess the competition, and test different products to see which ones generate the most sales and revenue.
Do I need to have technical skills to create and sell digital products online?
It depends on the type of digital product you want to create and sell. While some digital products may require technical skills such as coding or design, many can be created using simple tools and software. You can also hire freelancers or outsource the work to professionals to help you create high-quality digital products.
How can I promote my digital products effectively to generate more sales?
To promote your digital products effectively, focus on building a strong online presence, engaging with your target audience on social media, and leveraging email marketing and paid advertising. Offer discounts, free trials, and other incentives to encourage people to try your products and share them with others.
How can I protect my digital products from piracy and copyright infringement?
To protect your digital products from piracy and copyright infringement, use digital rights management (DRM) technology, encrypt your products, and watermark your digital files. You can also register your copyrights and trademarks with the appropriate authorities and pursue legal action against infringers if necessary.
Can I sell digital products on multiple platforms simultaneously?
Yes, you can sell digital products on multiple platforms simultaneously, as long as you have the right to do so. However, it's important to avoid price undercutting and maintain consistent branding and quality across all platforms.
Are there any legal requirements for selling digital products online?
Yes, there are legal requirements for selling digital products online, such as complying with tax laws, data protection laws, and consumer protection laws. You may also need to obtain licenses or permits for certain types of products or services, depending on your jurisdiction. It's important to research and comply with all relevant laws and regulations to avoid legal issues and penalties.