Integrate Google Drive plugin has an integration with Tutor LMS that allows instructors to add Google Drive files as course content. What's even more innovative is the multi-instructor functionality which allows different instructors to connect their own individual Google Drives. This integration makes it easy for instructors to share course content and collaborate on creating engaging Google Drive Files as online courses.
Step-1: Install & Activate Necessary Plugins
To integrate Google Drive with the Tutor LMS plugin you have to Install & Activate both Integrate Google Drive & Tutor LMS plugins inside your WordPress website.
Navigate to Plugins > Add New > Search both plugins one by one > Install & Activate them one by one.
Step-2: Enable Tutor LMS Integration
Navigate to Integrate Google Drive plugin from the WordPress dashboard > Settings > Integrations > Enabel Tutor LMS > Save Changes. This will allow you to integrate any Google Drive files with the Tutor LMS plugin.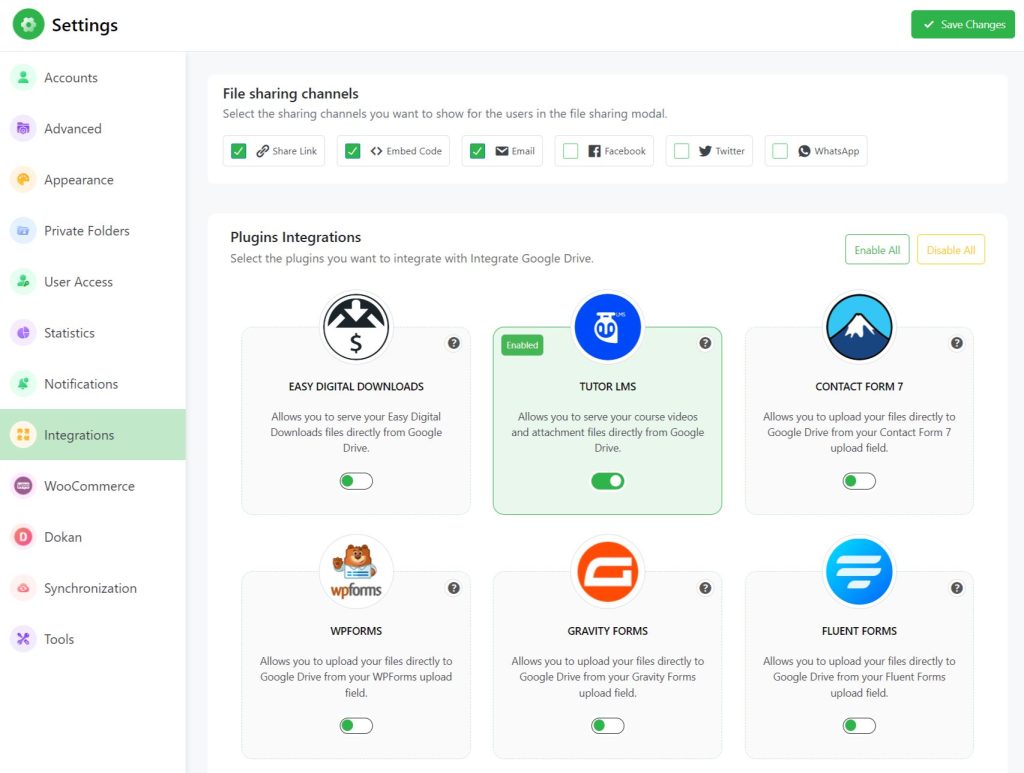 Step-3: Allow Instructors to Upload Courses
Before moving on to the main steps, you must allow instructors to upload courses. To do so navigate to Tutor LMS > Settings > General > Enable Marketplace > Save Changes.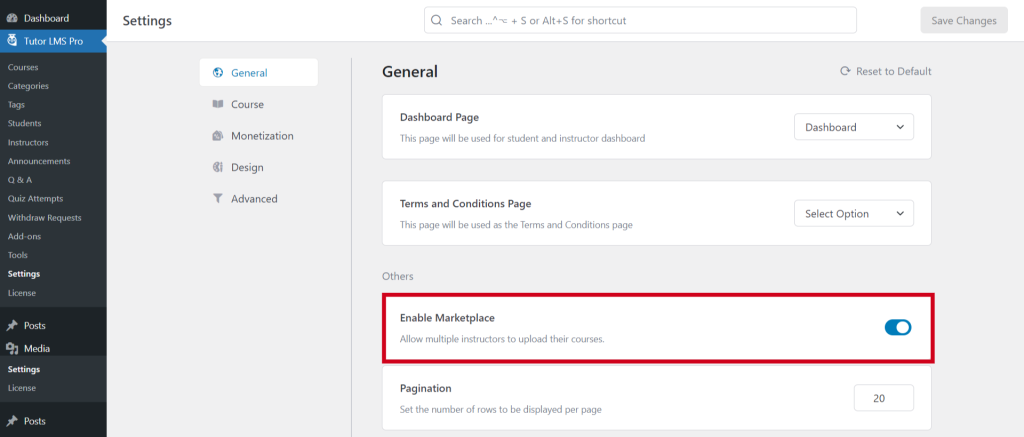 Step-4: Enable Google Drive Preferred Video Source
Navigate to Tutor LMS > Settings > Course > Tick Google Drive as Preferred Video Source > Save Changes.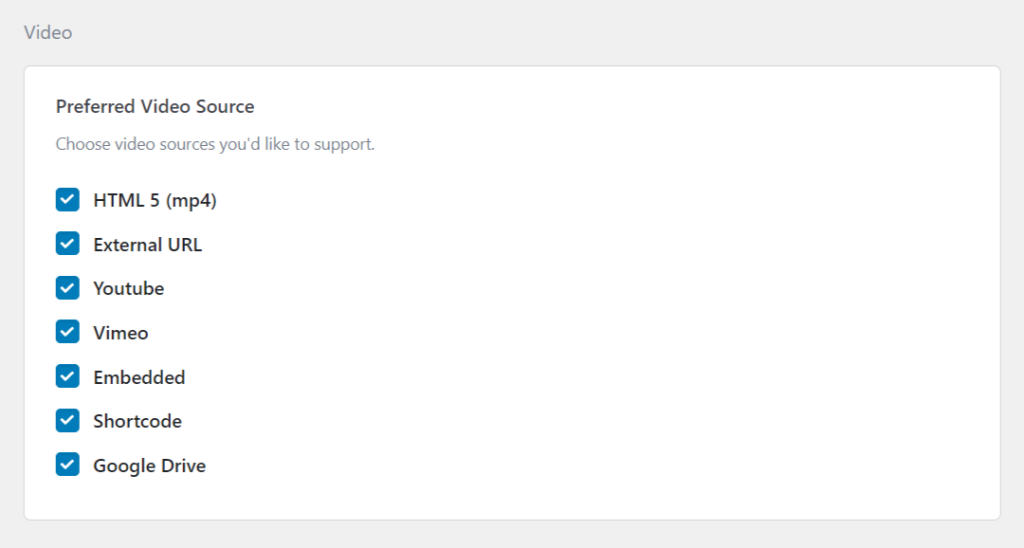 Step-5: Connect Instructors' Google Account
To connect the instructor's Google Account, instructors must navigate to their Dashboard > Settings > Google Drive > Add New Account > Connect instructors' preferred Google Drive Account.
Instructors now can manage their Google Drive course files directly from their Tutor LMS dashboard.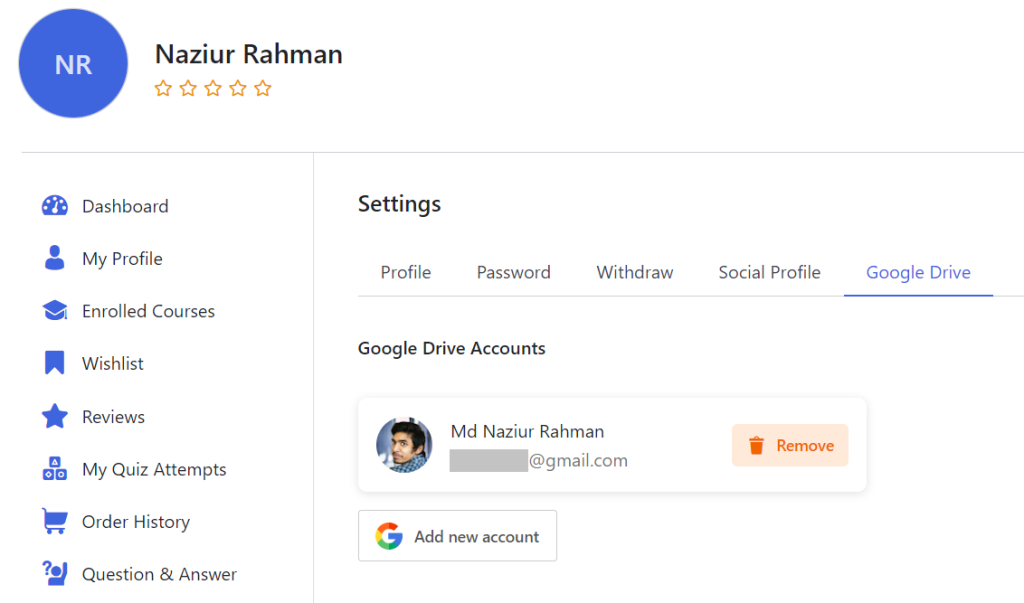 Step-6: Create Course
To create a course as an instructor navigate to the instructors' dashboard > Create a New Course.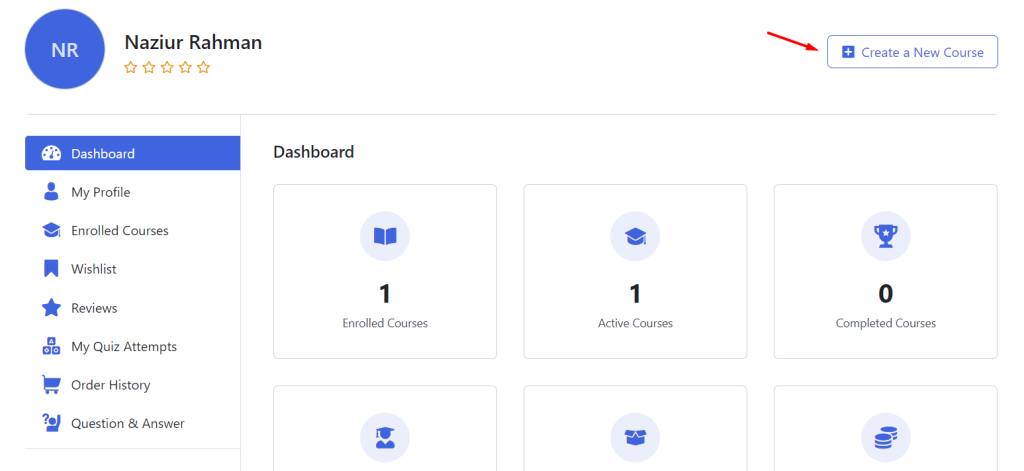 Step-7: Setup Course Information
Instructors can enter and set up their course effectively by entering Course Title, Slug, About, Settings, Category, and Thumbnail.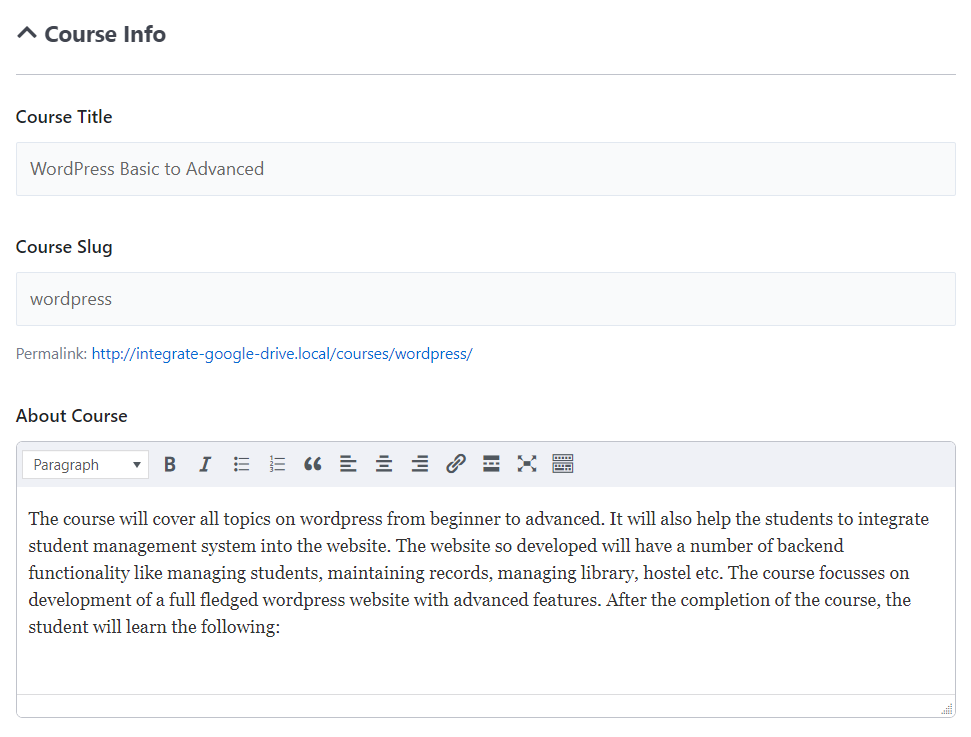 Step-8: Set Google Drive Video as Course Intro Video
Instructors can also add the Course Intro Video that has been hosted on their Google Drive.
From the video section instructor has to Select Google Drive as a video source > Browse Video > Select the Course Intro Video from instructor's linked Google Drive account.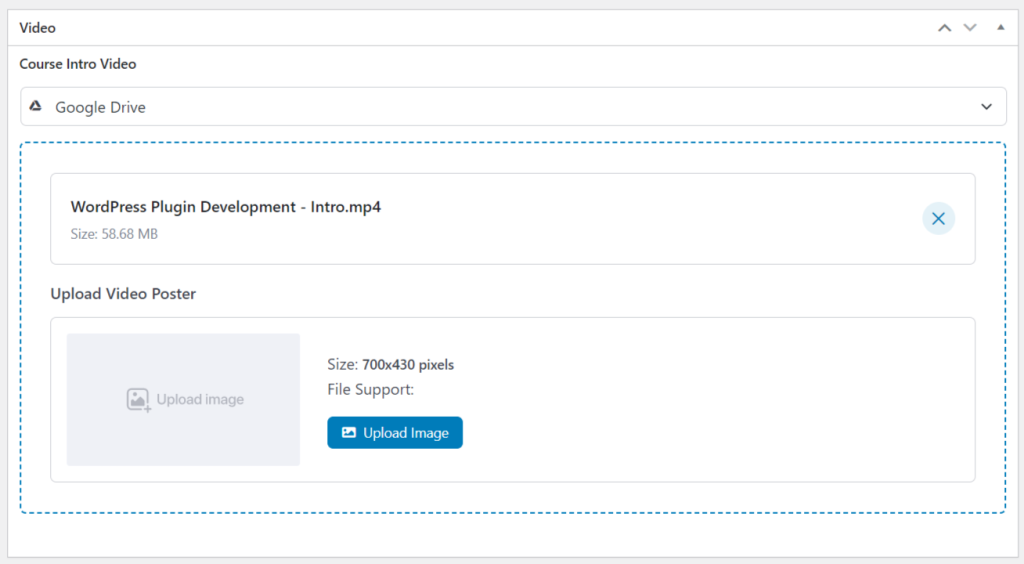 Step-9: Add Course Topic
Instructors now can enter and set up your course effectively by topic. Click on Add New Topic > Enter Topic Name & Topic Summary > Click Add Topic.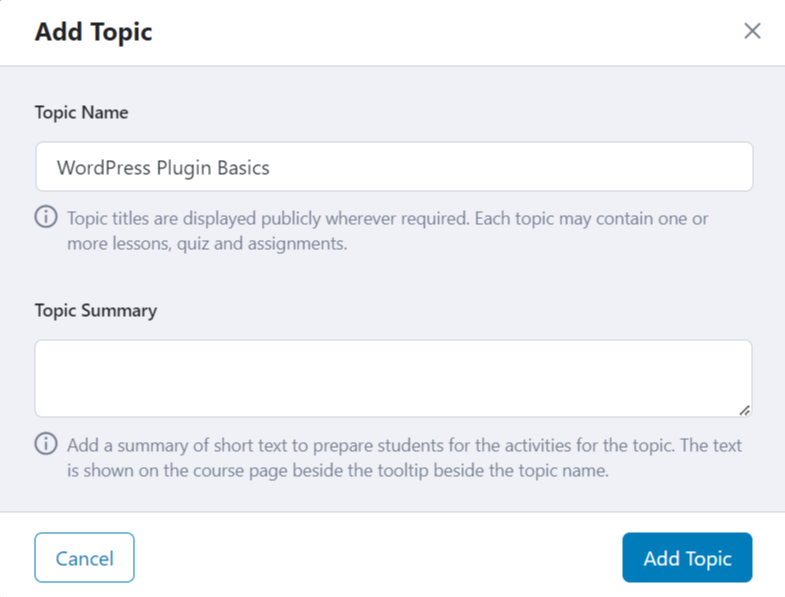 Step-10: Add Google Drive Video Lessons & Google Drive File Attachments
After adding course topics it's time to add course lessons from Google Drive. To add Course Lessons click on Lesson > Enter Lesson Name, Lesson Content, Feature Image, and others.
If they want to add Google Drive-hosted video lesson they should select Google Drive from Video Source > Browse Video > Select their Preferred Course Video.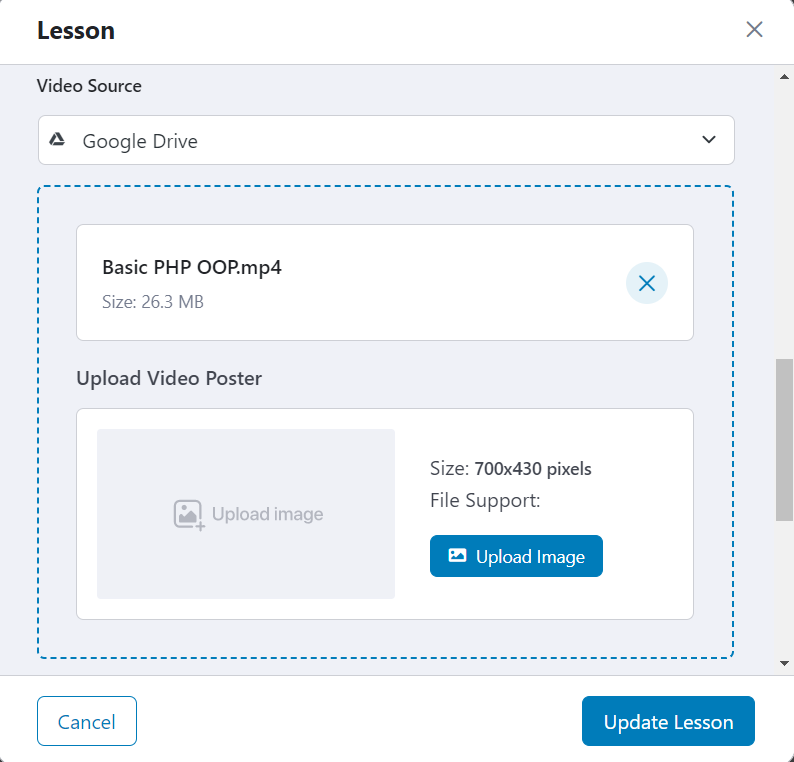 They can also upload exercise files to their Lesson. Click on Add Attachment button (the right one with Google Drive Logo) > Select Preferred Exercise Files > Click Done > Publish Lesson.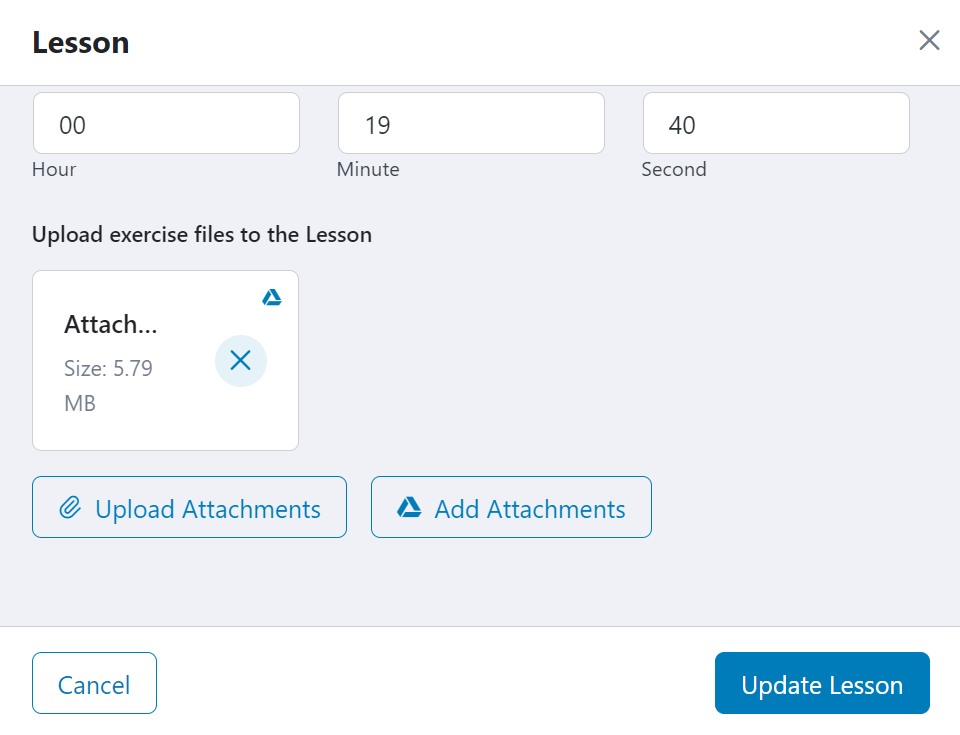 Now instructor has successfully published their Google Drive files as course content on the Tutor LMS platform with the help of Integrate Google Drive plugin.
Video Tutorial